Quotes About Believing In Yourself
When you believe in yourself, you open up many possibilities in your life. What you have in your life is a direct result of the belief you have in yourself.
Growing up and through our life, we have conditioned to doubt ourselves and think we can't do this, or I'll never make it in that job.
Our minds are such powerful instruments that you can do anything you've ever dreamed about. This is called the power of positive expectations.
Motivation has to come from within; no one can push you towards greatness but you.
Dig deep within yourself and strive with all your might to make your dreams a reality.
Do you want to graduate from college? Own a business? Only you can make it happen; you need to believe in yourself.
Others may try to bring you down, do not let that happen. Don't listen to their negativity. It will stop you from moving forward and hold you back.
Don't doubt yourself either; some people will try to talk you out of what of being successful.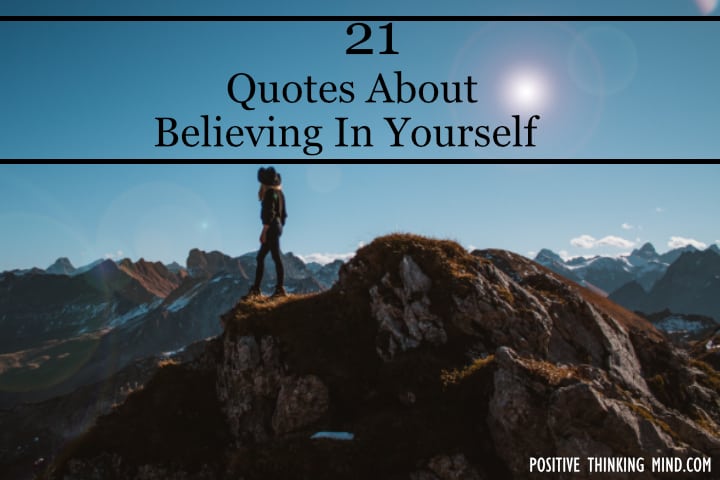 Belief In Yourself Quotes
If you believe in yourself and have dedication and pride – and never quit, you'll be a winner. The price of victory is high, but so are the rewards.
– Bear Bryant
Believe in yourself, and the rest will fall into place. Have faith in your abilities, work hard, and there is nothing you cannot accomplish.
– Brad Henry
Related: 5 Habits I Gave Up To Crush My Depression
If you hear a voice within you, say 'you cannot paint,' then by all means paint, and that voice will be silenced.
– Vincent Van Gogh
Many of life's failures are people who did not realize how close they were to success when they gave up.
– Thomas A. Edison
If we all did the things we are capable of doing, we would literally astound ourselves.
– Thomas Edison
It is never too late to be what you might have been.
― George Eliot
You can have all the tools in the world, but if you don't genuinely believe in yourself, it's useless.
– Ken Jeong
If you believe in yourself, anything is possible.
– Miley Cyrus
One important key to success is self-confidence. An important key to self-confidence is preparation.
– Arthur Ashe
It is not the mountain we conquer, but ourselves.
– Sir Edmund Hillary
I believe that God has put gifts and talents and ability on the inside of every one of us. When you develop that, and you believe in yourself, and you believe that you're a person of influence and a person of purpose, I believe you can rise up out of any situation.
– Joel Osteen
Some people say that I have an attitude- Maybe I do. But I think that you have to. You have to believe in yourself when no one else does- that makes you a winner right there.
– Venus Williams
Always believe in yourself and keep going. You don't have to have the most talent in the world. You don't have to be the smartest person in the world. If you persist and you persist, and you persist, you will be successful.
– Dean Cain
Believe in yourself! Have faith in your abilities! Without a humble but reasonable confidence in your own powers, you cannot be successful or happy.
– Norman Vincent Peale
Once we believe in ourselves, we can risk curiosity, wonder, spontaneous delight, or any experience that reveals the human spirit.
– E.E. Cummings
Do not wait; the time will never be 'just right.' Start where you stand and work with whatever tools you may have at your command, and better tools will be found as you go along.
– George Herbert
Nothing can stop the man with the right mental attitude from achieving his goal; nothing on earth can help the man with the wrong mental attitude.
– Thomas Jefferson
If you don't believe in yourself, then who is going to believe in you?
– Jack Wilshere
You need to develop, somehow, a huge amount of faith and confidence in yourself, because there's a lot of rejection throughout an actor's life and you have to believe in yourself more than anyone else.
– Stephen Collins
As a midfielder, you have to have vision. If you see an opening that might create an opportunity, you have to believe in yourself and go for it; a 40-yard pass or an eye-of-the-needle ball. You have to feel you are going to make it. That's the way I play. I have a picture in my mind, and I go for it.
– Aaron Ramsey
Always act like you're wearing an invisible crown.
– Author Unknown