How To Make A DIY Self Care Kit
Want to make a self-care kit to get through tough times? Not sure where to start? These cool self-care package ideas will help you build a self-care kit that works.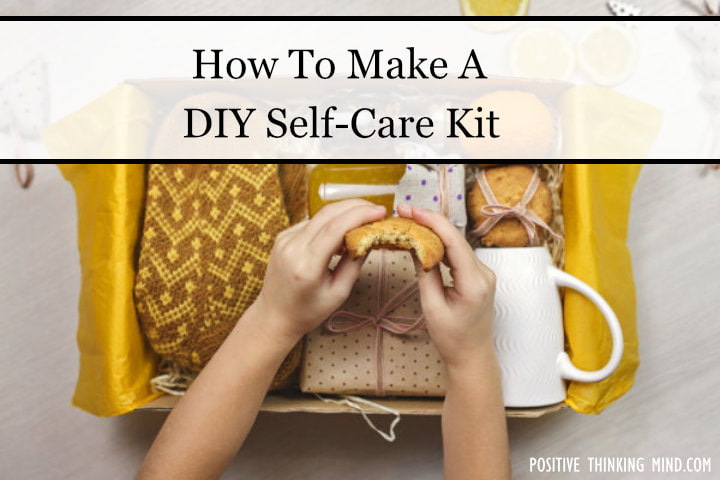 This post contains affiliate links, please read my disclosure policy.
Sometimes I feel like life is too much, with all the stress, chores, running around with the kids. That's why I've created my DIY self-care kit, and it's ready to go when I need some profound relaxation.
A self-care or wellness kit can be used in whatever season you're in and makes a fantastic gift for a loved one.
How To Make A Self Care Kit
Here's what I'll cover in this post.
Inexpensive ideas to put in your kit
What's in my self-care kit
Pre-made self-care solutions
What is a Self-Care Kit?
First, let's start by clarifying what a self-care kit is. A self-care kit is a basket or package filled with things that will make you feel good, safe and help soothe anxiety and stress.
You choose things that you know you like and have helped you chill out in the past. These can be conventional or un-conventional items.
It can be anything you decide, from journals, coloring books, and bath products. As long as you like and enjoy them, find them fun and soothing.
Why Is A Self-Care Kit Important?
When you feel anxious or stressed, a self-care box will help your mental health by coping with stress, uplifting your spirits, and making you feel good.
Your self-care kit is part of a long-term stress management plan, effectively helping you focus on positive strategies instead of negative ones.
What Should I Put In My Self Care Kit?
If you're making a self-care basket for yourself, it's entirely up to you what goes in it—creating a basket for a loved one? Think of things they like.
DIY Self-Care Kit Ideas
Here are some DIY self-care kit ideas put into categories. Use what works best for you and ensure you're not allergic to any ingredients.
Visualization and Self-Awareness
I like to start with visuals like a small book or a writing journal to help self-awareness.
Journaling is a great way to let out your emotions and unwanted feelings on paper to visualize what you're feeling.
Self-Care: A Day and Night Reflection Journal (90 Days) (Inner World)  


– There's nothing better than journal therapy. Write in your journal and get the stress out. See my favorite journaling books here.
Journaling Pens 


– Add in some cool and colorful pens to spice things up
Every Breath – by Nicholas Sparks – Sometimes, we need to escape reality and get lost in a good book. Take a look at this NY Times Best Seller list and see if anything resonates with you.
Adult Coloring Book 


– Let your mind wander as you color and sort out your feelings.
Affirmation Cards – look within yourself and discover the beauty of yourself.
Positive Quotes & Sayings – Write down some of your favorite quotes. You don't have to spend money on this; search the internet or read my inspiring quotes posts:
Calming Sounds and Music
There's nothing better than music to calm the savage beast. Or the stress of your day anyway.
Play some calming music in a quiet room or while you're in the bath and soothe the stresses of the day away.
Create a playlist of your favorite music on your phone – Subscribe To Audible
Do a search and find positive podcasts that are uplifting – try our Positive Thinking Mind Podcast
A White Noise Machine to block out all unwanted sounds
Soothing And Calming Items That Make You Feel Good
Relaxation and pamper-focused gifts are a go-to for self-care. These will help you relax from a tired and overworked day and the stress of your co-workers.
You've been running around doing errands and chores, helping the kids with their homework. Now it's time to relax and unwind.
Stress Balls 


– squeeze out that pent-up stress. The perfect way to calm down when you're anxious or restless.
Bath and Shower Products are great ways to unwind and relax, from bath bombs to shaving gel to a fantastic bath scrub. Oh, I want to take a bath right now. – Check out these spa gifts sets too.
Massage Products – Find some good massage oil or lotion and have your partner massage you.  
Face Masks 


– An excellent facial mask will keep your skin soft and clean.
Candles – Get luxury candles for your bath with this monthly subscription gift set. 
Scents And Essential Oils
One of the most relaxing feelings is a hot bath with essential oils. I love lavender as the smell relaxes me as well as eucalyptus, and my third favorite is chamomile.
After a bath with these essential oils, my muscles are relaxed and feel so darn good.
Note: Read all the labels and ingredients first before using them, and be sure you're not allergic or sensitive to these oils. Use as intended.
Treats And Snacks
What self-care kit would be complete without some food. It's ok to splurge and enjoy a treat to indulge yourself.
Can you guess what's first on our list of treats? You guessed it.
Chocolate – Who doesn't love chocolate? Chocolate makes us feel good. The melting in your mouth goodness. Mmmmm. Buy some high-quality chocolates and put them in your basket. If you're sugar conscious, buy something around 90% cocoa as it contains less sugar.
Hot Chocolate – We just added some chocolate to our kit; now it's time for some amazing hot chocolate. It's perfect on a cold wintery night underneath a cozy warm blanket.
Coffee 


– My favorite organic coffee, which is low on acid, not only wakes me up in the morning, but I use it as part of my self-care kit as the aroma and taste lift me out of my funk. I love coffee.
Herbal Tea – A good cup of chamomile tea will calm you.
Easy And Cheap DIY Self Care Ideas
Water bottles
Socks
Body wash
Body butter
Lip balm
Mani-Pedi gift set
Nail polish
Personalized mug
What's In My Self-Care Kit
Here's what I have in my self-care kit:

Chocolate bars
Hot chocolate
Coffee
Cookies
Mug
Moisturizer
Herbal Tea
Journal Pens
Massage ball roller
Socks
Stress balls
Slippers
Essential Oils
Pre-made Self Care Kits You Can Order
If you're not into putting a self-care kit together or want to order one for a friend, these self-care subscription boxes are a great idea.
You can have different and unique ideas sent to you monthly, which is incredible!
Subscription boxes are so popular, and the two below have rave reviews. It's easy to find something for anyone with an array of interests, and they're budget-friendly too.
Therabox Self-Care Subscription Box

Therebox self-care kits are lovely, and I often send them to friends and family. Professional therapists curate them to increase happiness and reduce stress.
Find your Therabox self-care kit here.
HopeBox – The Ultimate Gift Of Comfort

The HopeBox is beautifully curated to alleviate anxiety and inspire hope through self-care.
The HopeBox includes books, aromatherapy, jewelry, candles, snuggle buds, organic soaks, scrubs, masks, and more, all meticulously selected.
Find your HopeBox Self-Care Kit Today
Put Your Self-Care Kit Together
I hope you enjoyed and found some great ideas for your DIY self-care kit, and have fun putting it together.
If you need more, see my post on self-care anxiety gift ideas.
I'd love to hear what you've put in your self-care kit and your ideas. If you have