Self Acceptance Quotes To Guide You
Having self-acceptance is one of the most challenging things we can achieve. These beautiful self-acceptance quotes will guide you to be aware of your weaknesses and strengths and make peace with others.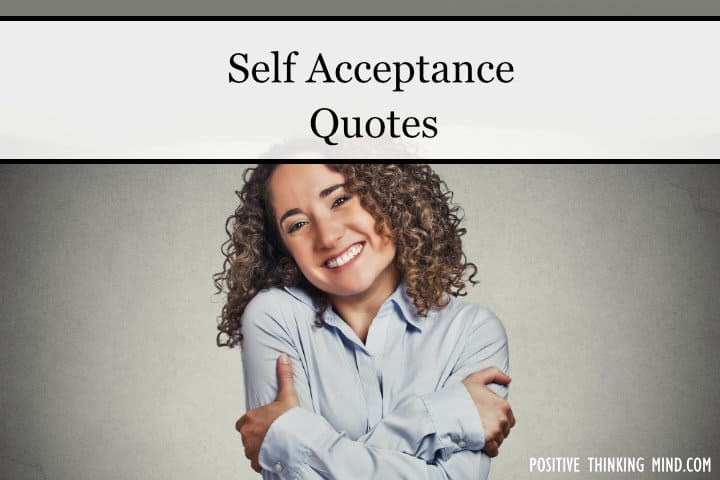 Self Acceptance Quotes
Acceptance doesn't mean that life gets better; it just means that my way of living life on life's terms improves.

Sharon E. Rainey
Accept – then act. Whatever the present moment contains, accept it as if you had chosen it. Always work with it, not against it.

Eckhart Tolle
Acceptance doesn't mean resignation; it means understanding that something is what it is and that there's got to be a way through it.

Michael J. Fox
The acceptance of death gives you more of a stake in life, in living life happily, as it should be lived. Living for the moment.

Sting
Understanding is the first step to acceptance, and only with acceptance can there be recovery.

– J.K. Rowling
A man cannot be comfortable without his own approval.

Mark Twain
Every woman that finally figured out her worth, has picked up her suitcases of pride and boarded a flight to freedom, which landed in the valley of change.

Shannon L. Alder
You're always with yourself, so you might as well enjoy the company.

Diane Von Furstenberg
Live your life, sing your song. Not full of expectations. Not for the ovations. But for the joy of it.

Rasheed Ogunlaru
Because one believes in oneself, one doesn't try to convince others. Because one is content with oneself, one doesn't need others' approval. Because one accepts oneself, the whole world accepts him or her.

Lao Tzu
A friend is someone who gives you total freedom to be yourself—and especially to feel, or not feel. Whatever you happen to be feeling at any moment is fine with them. That's what real love amounts to – letting a person be what he really is.

Jim Morrison
Some people believe holding on and hanging in there are signs of great strength. However, there are times when it takes much more strength to know when to let go and then do it.

Ann Landers
Love yourself first and everything else falls into line. You really have to love yourself to get anything done in this world.

Lucille Ball
Self Acceptance Quotes To Find Happiness
Accept everything about yourself I mean everything, You are you and that is the beginning and the end no apologies, no regrets.

Henry A. Kissinger
We are all going, I thought, and it applies to turtles and turtlenecks, Alaska the girl and Alaska the place, because nothing can last, not even the earth itself.

The Buddha said that suffering was caused by desire, we'd learned, and that the cessation of desire meant the cessation of suffering. When you stopped wishing things wouldn't fall apart, you'd stop suffering when they did."

John Green
Self-love has very little to do with how you feel about your outer self. It's about accepting all of yourself.

Tyra Banks
The art of acceptance is the art of making someone who has just done you a small favor wish that he might have done you a greater one.

Martin Luther King, Jr.
When you stop living your life based on what others think of you real life begins. At that moment, you will finally see the door of self acceptance opened.

Shannon L. Alder
Gratitude unlocks the fullness of life. It turns what we have into enough, and more. It turns denial into acceptance, chaos to order, confusion to clarity. It can turn a meal into a feast, a house into a home, a stranger into a friend.

Melody Beattie
Acceptance of what has happened is the first step to overcoming the consequences of any misfortune.

William James
Acceptance is the key to everything.

Michael J Fox
It is easier to make our wishes conform to our means than to make our means conform to our wishes.

Robert E. Lee
Letting go doesn't mean that you don't care about someone anymore. It's just realizing that the only person you really have control over is yourself.

Deborah Reber
Generally speaking, the Way of the warrior is resolute acceptance of death.

Miyamoto Musashi
What self-acceptance does is open up more possibilities of succeeding because you aren't fighting yourself along the way.

Shannon Ables
No amount of self-improvement can make up for any lack of self-acceptance.

Robert Holden
Not everything that is faced can be changed. But nothing can be changed until it is faced.

James Baldwin
Acceptance of one's life has nothing to do with resignation; it does not mean running away from the struggle. On the contrary, it means accepting it as it comes, with all the handicaps of heredity, of suffering, of psychological complexes and injustices.

Paul Tournier
Life is a series of natural and spontaneous changes. Don't resist them; that only creates sorrow. Let reality be reality. Let things flow naturally forward in whatever way they like.

Lao Tzu
Self-acceptance is my refusal to be in an adversarial relationship to myself.

Nathaniel Branden
A friend is one to whom one may pour out the contents of one's heart, chaff and grain together, knowing that gentle hands will take and sift it, keep what is worth keeping, and with a breath of kindness, blow the rest away.

George Eliot
Die while alive and be thoroughly dead. Then do what you will, and all will be well.

Philip Kapleau
As you become clearer about who you really are, you'll be better able to decide what is best for you – the first time around.

Oprah Winfrey
Wisdom. . .is knowing what you have to accept.

Wallace Stegner
Accept yourself, love yourself, and keep moving forward.

Roy Bennett