Inspirational Quotes On Patience
It can be difficult to be patient at times, especially in our world of instant gratification where we can get things shipped basically same or next day.
The definition of patience is the quality of being patient, as the bearing of provocation, misfortune, or pain, without complaint, loss of temper, irritation or the like, an ability or willingness to suppress restlessness or annoyance when confronted with delay.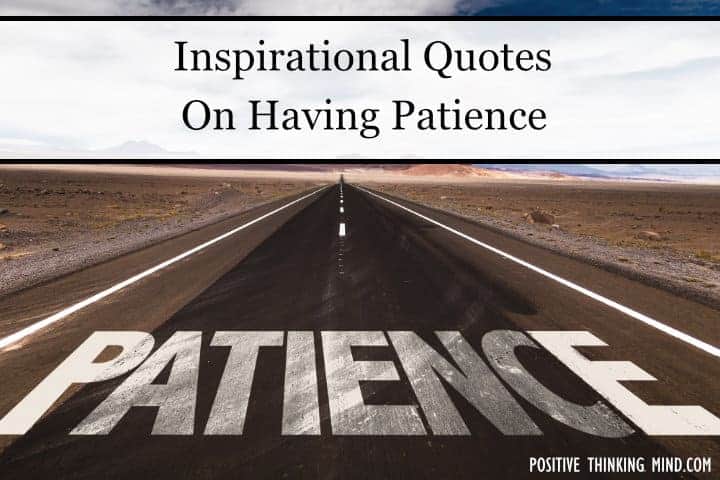 Here is our collection of inspiring patience quotes and quotes about patience.
Quotes On Patience
All great achievements require time.

Maya Angelou
Patience is when you're supposed to get mad, but you choose to understand.

Anonymous
Inner peace is impossible without patience. Wisdom requires patience. Spiritual growth implies the mastery of patience. Patience allows the unfolding of destiny to proceed at its won unhurried pace.

Brian L. Weiss
Please also read these related posts
Patience serves as a protection against wrongs as clothes do against cold. For if you put on more clothes as the cold increases, it will have no power to hurt you. So in like manner you must grow in patience when you meet with great wrongs, and they.

Leonardo da Vinci
Patience is not the ability to wait, but the ability to keep a good attitude while waiting.

Anonymous
Patience, persistence, and perspiration make an unbeatable combination for success.

Napoleon Hill
Every man must patiently bide his time. He must wait – not in listless idleness but in constant, steady, cheerful endeavors, always willing and fulfilling and accomplishing his task, that when the occasion comes he may be equal to the occasion.

Henry Wadsworth Longfellow
When you encounter various trials, big or small, be full of joy. They're opportunities to learn patience.

Scott Curran
Patience is the calm acceptance that things can happen in a different order than the one you have in your mind.

David G. Allen
More Quotes On Patience
Have patience with everything that remains unsolved in your heart. Try to love the questions themselves, like locked rooms and like books written in a foreign language. Do not now look for the answers. They cannot now be given to you because you could not live them. It is a question of experiencing everything. At present you need to live the question. Perhaps you will gradually, without even noticing it, find yourself experiencing the answer, some distant day.

Rainer Maria Rilke
If patience is worth anything, it must endure to the end of time. And a living faith will last in the midst of the blackest storm.

Mahatma Gandhi
Patience is bitter, but its fruit is sweet.

Aristotle
The two most powerful warriors are patience and time.

Leo Tolstoy
Patience is not the ability to wait. Patience is to be calm no matter what happens, constantly take action to turn it to positive growth opportunities, and have faith to believe that it will all work out in the end while you are waiting.

Roy T. Bennett
Patience has its limits. Take it too far, and it's cowardice.

George Jackson
He that can have patience can have what he will.

Benjamin Franklin
Patience is not passive, on the contrary, it is concentrated strength.

Bruce Lee
Without patience, we will learn less in life. We will see less. We will feel less. We will hear less. Ironically, rush and more usually mean less.

Mother Teresa
Patience is the road to wisdom.

Kao Kalia Yang
My dad said to me – Work hard and be patient. It was the best advice he ever gave me. You have to put the hours in.

Simon Cowell
Trust the process. Your time is coming. Just do the work and the results will handle themselves.

Tony Gaskins
Be patient. Everything is coming together.

Anonymous
Be patient and tough; someday this pain will be useful to you.

Ovid
Nature does not hurry, yet everything is accomplished.

Lao Tzu
Patience Quotes
Our patience will achieve more than our force.

Edmund Burke
With love and patience, nothing is impossible.

Daisaku Ikeda
A man who is a master of patience is master of everything else.

George Savile
It is easier to find men who will volunteer to die. Than to find those who are willing to endure pain with patience.

Julius Caesar
Patience is a key element of success.

Bill Gates
Patience and fortitude conquer all things.

Ralph Waldo Emerson
We could never learn to be brave and patient, if there were only joy in the world.

Helen Keller
Our patience will achieve more than our force.

Edmund Burke
The secret of patience is to do something else in the meantime.

Croft M. Pentz
Tolerance and patience should not be read as signs of weakness, they are signs of strength.

Anonymous
Patience is a conquering virtue.

Geoffrey Chaucer
A man who masters patience masters everything else.

Anonymous
Maybe that's why life is so precious. No rewind or fast forward… just patience and faith.

Cristina Marrero
Patience is bitter, but its fruit is sweet.

Jean-Jacques Rousseau
Make your ego porous. Will is of little importance, complaining is nothing, fame is nothing. Openness, patience, receptivity, solitude is everything.

Rainer Maria Rilke
A wise man is superior to any insults which can be put upon him, and the best reply to unseemly behavior is patience and moderation.

Molière