79 Best Inspirational Quotes For Kids
Kids need inspiration too but sometimes it's hard to find kid-friendly, age appropriate motivational quotes for kids.
These short inspirational quotes are short but powerful, and may stay with your child for a lifetime. Look through our quotes, print them out, write them down hang them on their wall to lift them up, boost their confidence and self-esteem and inspire them.
From superheros to famous people we've hand picked inspirational quotes for kids to help motivate them through life events and situations.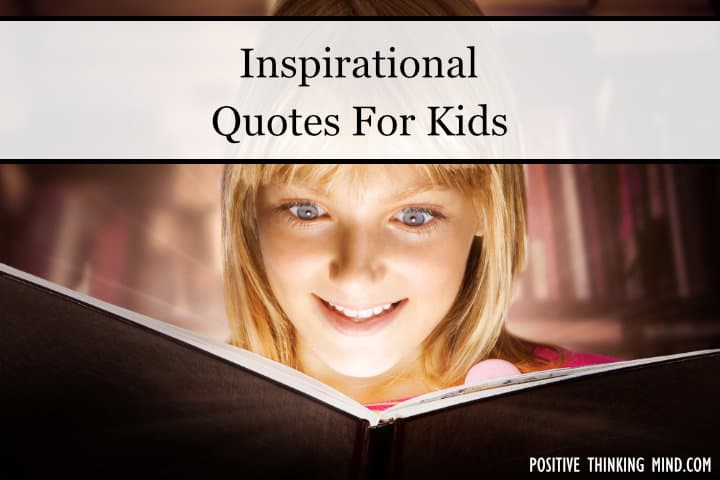 Inspirational Quotes From Superheros
You are much stronger than you think you are. Trust me.

Superman
Life doesn't give us purpose. We give life purpose.

The Flash
Only love can truly save the world. So I stay, I fight, and I give, for the world I know can be.

Wonder Woman
Products We Love To Help Lower Stress!
No Matter how bad things get, something good is out there, over the horizon.

Green Lantern
Heroes are made by the path they choose, not the powers they are graced with.

Iron Man
Why do we fall? So we can learn to pick ourselves back up.

Batman
With great power, comes great responsibility.

Spiderman
Inspirational Dr. Seuss Quotes For Kids
Don't cry because it's over. Smile because it happened.

Dr. Seuss
A person's a person, no matter how small.

Dr. Seuss
Related Posts You May Like
Sometimes you will never know the value of a moment, until it becomes a memory.

Dr. Seuss
Unless someone like you cares a whole awful lot, nothing is going to get better. It's not.

Dr. Seuss
If you keep your eyes open enough, oh, the stuff you will learn. Oh, the most wonderful stuff.

Dr. Seuss
Today I shall behave, as if this is the day I will be remembered.

Dr. Seuss
Think left and think right and think low and think high. Oh, the thinks you can think up if only you try!

Dr. Seuss
You're off to great places! Today is your day! Your mountain is waiting, so get on your way!

Dr. Seuss
The more that you read, the more things you will know. The more that you learn, the more places you'll go.

Dr. Seuss
I have heard there are troubles of more than one kind. Some come from ahead and some come from behind. But I've bought a big bat. I'm all ready you see. Now my troubles are going to have troubles with me!

Dr. Seuss
With your head full of brains and your shoes full of feet, you're too smart to go down any not-so-good street.

Dr. Seuss
You have brains in your head. You have feet in your shoes. You can steer yourself any direction you choose.

Dr. Seuss
So be sure when you step, step with care and great tact. And remember that life's A Great Balancing Act. And will you succeed? Yes! You will, indeed! (98 and ¾ percent guaranteed) Kid, you'll move mountains.

Dr. Seuss
So, on beyond Z! It's high time you were shown. That you really don't know. All there is to be known. There's no limit to how much you'll know, depending how far beyond zebra you go.

Dr. Seuss
Today you are you, that is truer than true. There is no one alive who is youer than you.

Dr. Seuss
Famous Inspirational Quotes For Kids
People will forget what you said. People will forget what you did. But people will never forget how you made them feel.

Maya Angelou
If you can dream it, you can do it.

Walt Disney
Never let the fear of striking out stop you from playing the game.

Babe Ruth
Your attitude, not your aptitude, will determine your altitude.

Zig Ziglar
Why fit in when you were born to stand out?

Dr. Seuss
The best way to predict the future is to create it.

Abraham Lincoln
No one is perfect – that's why pencils have erasers.

Wolfgang Riebe
Yesterday is history. Tomorrow is a mystery. Today is a gift. That's why we call it "The Present."

Eleanor Roosevelt
It always seems impossible until it's done.

Nelson Mandela
If my mind can conceive it, if my heart can believe it, then I can achieve it.

Muhammed Ali
The secret of getting ahead is getting started.

Mark Twain
Anyone who has never made a mistake has never tried anything new.

Albert Einstein
I have not failed. I've just found 10,000 ways that won't work.

Thomas Alva Edison
The people who are crazy enough to believe they can change the world are the ones who do.

Steve Jobs
Fictional Character Quotes For Kids
Always let your conscience be your guide.

The Blue Fairy, Pinocchio
A little consideration, a little thought for others, makes all the difference.

Eeyore, Winnie-the-Pooh
Unless someone like you cares a whole awful lot, nothing is going to get better. It's not.

The Lorax, Dr. Seuss
Even miracles take a little time.

The Fairy Godmother from Cinderella
Just keep swimming.

Dory, Finding Nemo
The moment you doubt whether you can fly, you cease forever to be able to do it.

Peter Pan
Athlete Quotes For Kids
I never worry about the problem. I worry about the solution.

Shaquille' O Neal
Never say never, because limits, like fear, are just an illusion.

Michael Jordan
You're never a loser til you quite trying.

Mike Ditka
It's hard to beat a person who never gives up.

Babe Ruth
He who is not courageous enough to take risks will not accomplish anything in life.

Muhammad Ali
Friendship Quotes For Kids
A true friend is the greatest of all blessings.

Francois de La Rochefoucauld
No road is long with good company.

Turkish proverb
What is a friend? I will tell you…it is someone with whom you dare to be yourself.

Frank Crane
When you decide not to be afraid, you can find friends in super unexpected places.

Ms. Marvel
Quotes For Kids On Kindess
I think probably kindness is my number one attribute in a human being. I'll put it before any of the things like courage or bravery or generosity or anything else.

Roald Dahl
Kindness is the language which the deaf can hear and the blind can see.

Mark Twain
You will never have a completely bad day if you show kindness at least once.

Greg Henry Quinn
A single act of kindness throws out roots in all directions, and the roots spring up and make new trees. The greatest work that kindness does to others is that it makes them kind themselves.

Amelia Earhart
Kind words can be short and easy to speak, but their echoes are truly endless.

Mother Teresa
You can always, always give something, even if it is only kindness!

Anne Frank
Try to be a rainbow in someone's cloud.

Maya Angelou
Be kind whenever possible. It is always possible.

Dalai Lama
Quotes For Kids Who Are Sick
Your struggles develop your strengths. When you go through hardships and decide not to surrender, that is strength.

Arnold Schwarzenegger
Sometimes you will be in control of your illness and other times you'll sink into despair, and that's OK! Freak out, forgive yourself, and try again tomorrow.

Kelly Hemingway
The truth is we're all a little bit broken. We must learn to love the broken pieces of ourselves – be gentle and empathetic with ourselves, and others.

Karen Salmansohn
I keep my heart and my soul and my spirit open to miracles.

Patrick Swayze
As I got older, my life became a whirlwind of homework and responsibilities. The hospital became my retreat, a place to gather my thoughts and focus on my health. The nurses are my friends as well as my caretakers. The doctors are my parents as well as my physicians.

Claire Wineland
With the new day comes new strength and new thoughts.

Eleanor Roosevelt
Mr. T. been to chemo, Mr. T been to radiation, hair fall out … but he's back. Now I can give hope when I go to the hospital, see the sick kids with cancer, tell them, don't quit.

Mr. T
If you're going through hell, keep going.

Winston Churchill
I always had a special diet. I'm diabetic, so it's a lifestyle for me anyway just to stay healthy and not end up in the hospital.

Halle Berry
Good Behavior Quotes For Kids
The time is always right to do what is right.

Martin Luther King, Jr.
Be silly, be honest, be kind.

Ralph Waldo Emerson
Do your little bit of good where you are; it's those little bits of good put together that overwhelm the world.

Desmond Tutu
Politeness is a sign of dignity, not subservience.

Theodore Roosevelt
It takes a great deal of bravery to stand up to our enemies, but just as much to stand up to our friends.

J.K. Rowling
If you tell the truth you don't have to remember anything.

Mark Twain
It's not what happens to you, but how you react to it that matters.

Epictetus
Kindness and politeness are not overrated at all. They're underused.

Tommy Lee Jones
Just imagine how different the world could be if we all spoke to everyone with respect and kindness.

Holly Branson
If you want to change attitudes, start with a change in behavior.

William Glasser
You must be the change you wish to see in the world.

Mahatma Gandhi