25 Best Confidence Quotes
When you're suffering from low self-esteem it's hard to feel confident. But with some help, our uplifting confidence quotes along with support from people who love you, you can stop self sabotaging and become more confident.
If you're struggling with your body image, the way you look, how much money you make or what ever may be bringing you down, finding the right tools to reshape your negative mindset to think positive and breaking the vicious cycle which is hurting your self confidence takes time.
Whenever you feel down, come back to read these inspiring confidence quotes for an uplifting pick me up to stop those negative thoughts and remind yourself just how great and amazing you truly are.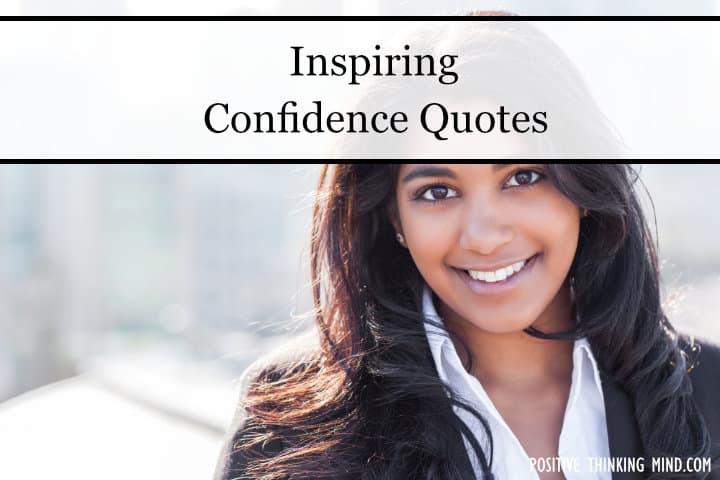 With realization of one's own potential and self-confidence in one's ability, one can build a better world.

The Dalai Lama
Do not let what you cannot do interfere with what you can do.

John Wooden
I can be changed by what happens to me. But I refuse to be reduced by it.

Maya Angelou
We gain strength, and courage, and confidence by each experience in which we really stop to look fear in the face … we must do that which we think we cannot.

Eleanor Roosevelt
Products We Recommend
You're never as good as everyone tells you when you win, and you're never as bad as they say when you lose.

Lou Holtz
Be courteous to all, but intimate with few, and let those few be well tried before you give them your confidence.

George Washington
Courage is resistance to fear, mastery of fear, not absence of fear.

Mark Twain
Remember that wherever your heart is, there you will find your treasure.

Paulo Coelho
Make the most of yourself, for that is all there is of you.

Ralph Waldo Emerson
I am not afraid of storms for I am learning how to sail my ship.

Louise May Alcott
Don't be distracted by criticism. Remember–the only taste of success some people have is when they take a bite out of you.

Zig Ziglar
Optimism is the faith that leads to achievement. Nothing can be done without hope and confidence.

Helen Keller
Inaction breeds doubt and fear. Action breeds confidence and courage. If you want to conquer fear, do not sit home and think about it. Go out and get busy.

Dale Carnegie
Always be yourself–express yourself, have faith in yourself. Do not go out and look for a successful personality and duplicate it.

Bruce Lee
Don't be satisfied with stories, how things have gone with others. Unfold your own myth.

Rumi
One important key to success is self-confidence. An important key to self-confidence is preparation.

Arthur Ashe
Always remember you are braver than you believe, stronger than you seem, and smarter than you think.

Christopher Robin
If we all did the things we are capable of doing, we would literally astound ourselves.

Thomas Edison
I think that the power is the principle. The principle of moving forward, as though you have the confidence to move forward, eventually gives you confidence when you look back and see what you've done.

Robert Downey Jr.
Twenty years from now you will be more disappointed by the things you didn't do than by the ones you did do. So throw off the bowlines. Sail away from the safe harbor. Catch the trade winds in your sail. Explore. Dream. Discover.

Mark Twain
To be yourself in a world that is constantly trying to make you something else is the greatest accomplishment.

Ralph Waldo Emerson
To love oneself is the beginning of a lifelong romance.

Oscar Wilde
It is not so much our friends' help that helps us, as the confidence of their help.

Epicurus
Your success will be determined by your own confidence and fortitude.

Michelle Obama
Kindness in words creates confidence.

Laozi
More posts you'll love!