55 Moana Quotes: Incredibly Inspiring
I loved the movie Moana, and if you're here, I know you love it too. Moana is a tough "princess" with a great attitude and has some inspiring Moana quotes.
An excellent and adventurous Disney film, Moana is the daughter of a chief in a Polynesian village and is next to lead her people.
During the movie, the ocean calls out to her, and she eventually goes on an adventure traveling the sea with a demi-god named Maui to save her people.
These inspiring Moana quotes brought me right back to the movie and made me want to watch it again on Disney+.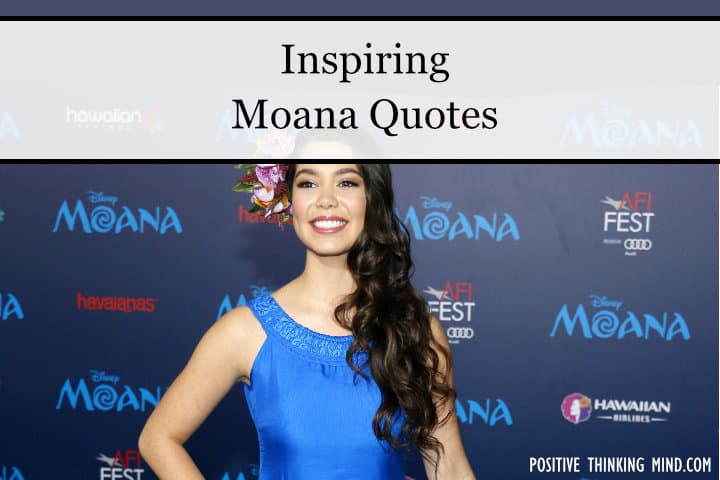 Moana Quotes
Her heart held the greatest power ever known.

Moana
When you use a bird to write with, it's called tweeting.

Moana
Really? Blow dart in my butt cheek?

Moana
If you start singing, I'm gonna throw up.

Moana
The ocean is a friend of mine.

Moana
Come what may, I know the way.

Moana
The ocean is in my soul and my soul is in the ocean.

Moana
There is nowhere that you could go that I will not be with you.

Moana | Moana quotes
We can voyage again.

Moana
Sometimes our strength lies beneath the surface, far beneath in some cases.

Moana
You will do great things, but first you must learn who you are meant to be.

Moana
There comes a day when you are going to look around and realize happiness is where you are.

Moana
Once you know what you like, well there you are.

Moana
I will lead with pride; I will make us strong.

Moana
The call isn't out there at all, it's inside me.

Moana
It's called wayfinding, princess. It's not just sails and knots, it's seeing where you're going in your mind. Knowing where you are by knowing where you've been.

Moana
We were voyagers!

Moana | quotes by Moana
Can we be real? If my name was Sebastian and I had a cool Jamaican accent, you'd totally help me. You would, you know you would.

Moana
If you wear a dress and have an animal sidekick, you're a princess.

Moana
I have crossed the horizon to find you. / I know your name. / They have stolen the heart from inside you. / But this does not define you. / This is not who you are. / You know who you are… who you truly are.

Moana
Sometimes our strengths lie beneath the surface … Far beneath, in some cases.

Moana
I'm his mom, I don't have to tell him anything.

Moana
The past shouldn't be feared for it guides our future.

Moana
They have stolen the heart from inside you but this does not define you.

Moana
I can lead with pride; I can make us strong I'll be satisfied if I play along. But the voice inside sings a different song. What is wrong with me?

Moana
Know your purpose.

Moana | Moana quotes
Muscle up buttercup.

Moana
I will carry you here in my heart. You will remind me that come what may I know the way.

Moana
Now I know why you always told me to be strong. Because you knew, you knew that one day I would need the strength to bear your loss.

Moana
I have crossed the horizon to find you.

Moana
See that line where the sky meets the sea, it calls me and no one knows how far it goes.

Moana
You're measuring the stars, not giving the sky a high five.

Moana
I'm the village crazy lady—that's my job.

Moana
There is nowhere you could go that I won't be with you.

Moana
There's just no telling how far I'll go.

Moana
Go inside, bang the drum, and find out.

Moana
Bonding is not measured by the time you spent together, but by the comfort you find when you realize you have each other.

Moana
A real way-finder never sleeps.

Moana
Fear holds you back.

Moana | Inspiring Moana quotes
I am Moana of Motunui. You will board my boat, sail across the sea, and restore the heart of Te Fiti.

Moana
One day I'll know how far I'll go

Moana
The ocean chose me.

Moana
Okay, first, I'm not a princess, I'm the daughter of the chief.

Moana
You may hear a voice inside. And if that voice starts to whisper to follow the farthest star, then it is inside you.

Moana
Are you just trying to get me to talk about myself? Because if you are … I will gladly do so—in song form!

Moana
There comes a day when you're gonna look around and realize happiness is where you are.

Moana
Scars can heal and reveal just where you are.

Moana
You can be a hero.

Moana
It'd be rude to refuse a gift from a goddess.

Moana
Be who you are on the inside.

Moana
I am self-taught.

Moana
When I saw you, that's how it all changed.

Moana
If I go, there is just no telling how far I will go.

Moana
Just pick an eye, babe. I can't… I can't concentrate on what I'm saying if you keep… Yeah, pick one. Pick one!

Moana
I am curious about that chicken eating the rock. He basically lacks an intelligence required for pretty much… everything.

Moana