Having faith can take you far in life, and this beautiful collection of faith quotes will help you persevere. Faith gives you something to believe in so you can see the light at the end of the tunnel when times are tough.
"Faith is seeing light with your heart when all your eyes see is darkness." – Anonymous
Our faith gives us strength and hope during challenging times, whether in school, a bad day at work, or if you are going through depression. Our faith helps to encourage us to keep moving forward because better days are just around the corner.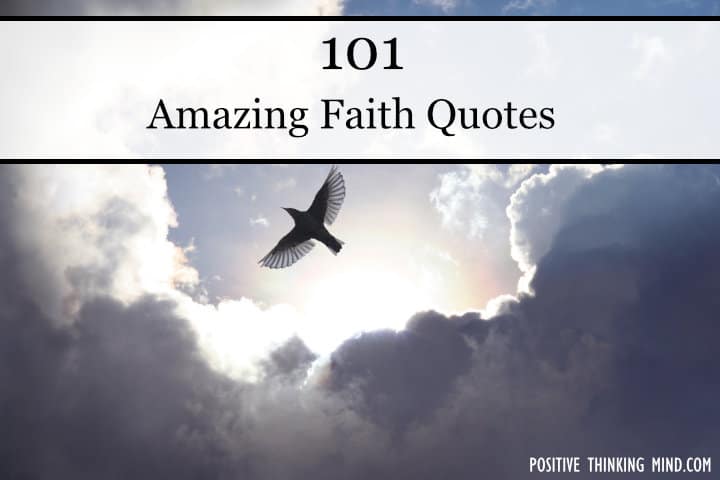 When you believe, life is so much better. Life for all of us is not easy or perfect, but having faith helps not to bring us down as hard.
"Faith. It does not make things easy, it makes them possible." – Anonymous
My favorite bible verses about faith are:
Matthew 21:22 – And whatever you ask in prayer, you will receive, if you have faith.

Hebrews 11:1 – Now faith is the assurance of things hoped for, the conviction of things not seen.
Faith consoles you when you feel helpless; faith reminds you to persevere.
I hope these faith quotes help you on your journey through life. Trust and believe.
Faith Quotes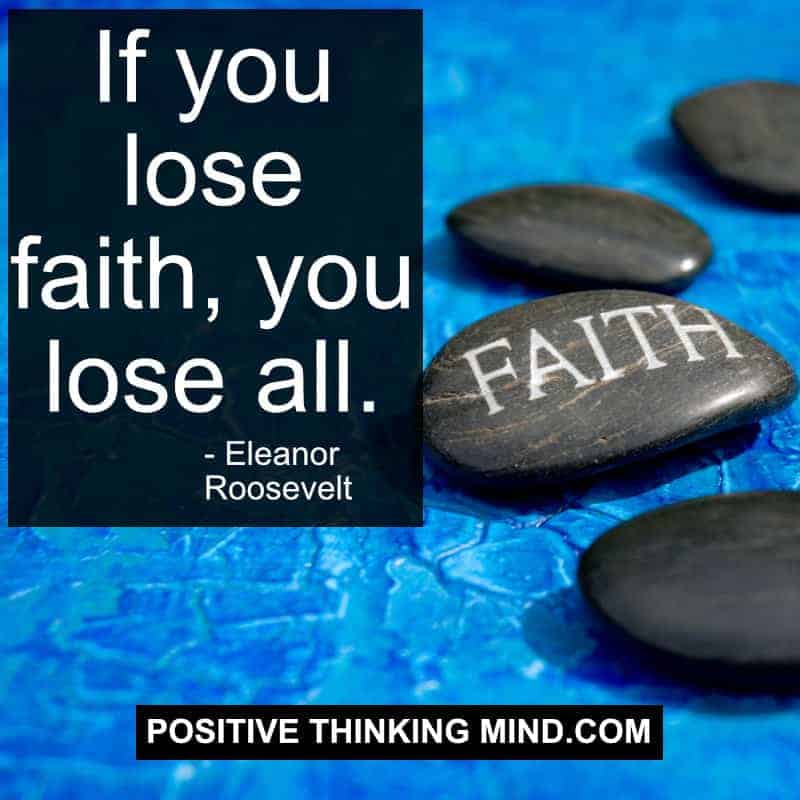 If you lose faith, you lose all.

Eleanor Roosevelt
Every day you need to get a full dose of the Word and mediate on scripture, and if you discipline yourself and remain consistent, your faith will grow and mature, and remember that God, the Word, and your faith, is a recipe for success.

Stephanie Williams
By faith, we believe God provides and we hold to the truth that He will not lie.

Lynn R. Davis
Praying for your husband and your marriage requires faith, to believe even before you actually "see."

Jennifer Smith
Related Posts:
There isn't enough room in your mind for both worry and faith. You must decide which one will live there.

Anonymous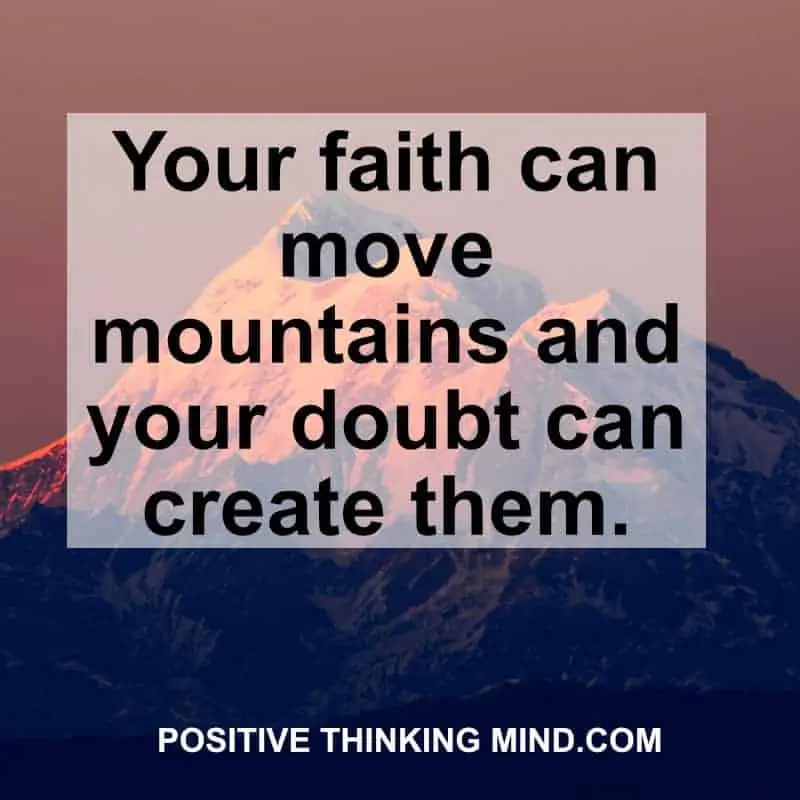 Your faith can move mountains and your doubt can create them.

Anonymous
So keep your faith in the God above, and faith in the righteous truth, it shall bring you back to the absent love, and the joys of a vanished youth.

Edgar A Guest | Poems about God
Faith is not only daring to believe, it is also daring to act. When I believe in myself as a son of God, I attribute to all men the same quality. This goes for men of every class, creed and color. The proof that I believe this way will be measured by the way I act towards others.

Wilfred Peterson
So with the slow death of the local church, many individuals never learn how to be reconciled to the Lord. They never come to Him by faith in the right spirit and with the right attitude to be saved.

James Thomas Lee Jr
Sometimes the best thing you can do is not think, not wonder, not imagine, not obsess. Just breath, and have faith that everything will work out for the best.

Anonymous
Faith is a passionate intuition.

William Wordsworth
Who is of so little faith that in a moment of great disaster or heartbreak has not called to his God?

Og Mandino
When I enter into a state of deep meditation I am abundantly aware of a magnetic like force, which pulls me in the direction of God."

Wayne Dyer
It is the things that we go through that prove our faith and test our godly character.

Scott F Neve
Bible Quotes
The Bible is seen as the Word of God. When people of faith read the Bible, God tells them what to do.

Michael Hill
Faith talks in the language of God. Doubt talks in the language of man.

E.W. Kenyon | Faith quotes
Christian giving is not a matter of finance, it is a matter of faith.

John Blanchard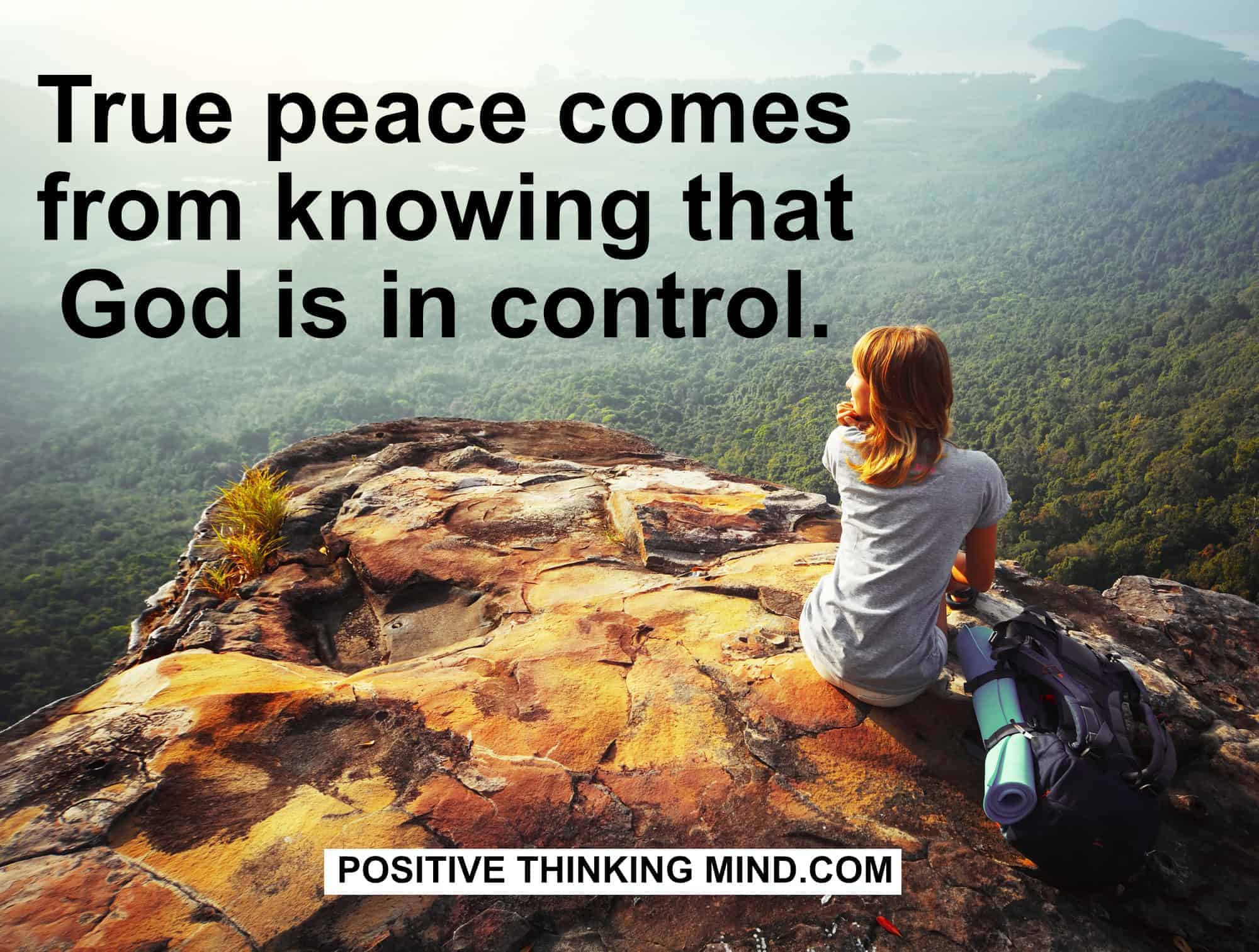 True peace comes from knowing that God is in control.

Anonymous
Without faith a man can do nothing; with it all things are possible.

Sir William Osler
I pray that out of His glorious riches He may strengthen you with power through His Spirit in your inner being, so that Christ may dwell in your hearts through faith. And I pray that you, being rooted and established in love.

Ephesians 3:16-17 | Bible Quotes
The situations that will stretch your faith most will be those times when life falls apart and God is nowhere to be found. This happened to Job.

Rick Warren
Faith is building on what you know is here so you can reach what you know is there.

Cullen Hightower
It is true that a prayer that comes from the heart can move mountains, it increases your faith, and brings you closer to God.

Rebecca Small
Don't worry. God is always on time. Trust him.

Anonymous
Faith is unseen but felt, faith is strength when we feel we have none, faith is hope when all seems lost.

Catherine Pulsifer
Now faith is confidence in what we hope for and assurance about what we do not see.

Hebrews 11:1
Faith means to have trust or confidence in something, such as having faith that the sun will rise and set each day.

Chris Johnston
Faith is a recognition of those things which are above the sense.

Henry Ward Beech

Your future is as bright as your faith.

Anonymous
If you will believe and stay in faith, and expect good things, you too can defy the odds.

Joel Osteen | Spiritual Quotes
Faith means being sure of what we hope for now. It means knowing something is real, this moment, all around you, even when you don't see it.

Joni Eareckson Tada
May your faith be strengthened and your heart filled with joy as we celebrate our Savior's birth.

Ray Pritchard
Otherwise without faith it becomes very difficult to keep pushing forward every day.

Darrin Wiggins
The promise of God's Word, the Bible – not our feelings – is our authority. The Christian lives by faith (trust) in the trustworthiness of God Himself and His Word. We are to place our faith (trust) in God and His trustworthiness and the promise of His Word.

Jeanette Duby
Faith And Gratitude Quotes
A life of faith is a life of gratitude – it means a life in which I am willing to experience my complete dependence upon God and to praise and thank him unceasingly for the gift of being.

Henri J. M. Nouwen | Gratitude Quotes
I think we all would do better to pray prayers that ask God to increase our faith before He increases our joy.

Candace Payne
And without faith it is impossible to please God, because anyone who comes to him must believe that he exists and that he rewards those who earnestly seek him.

Hebrews 11:6
Faith is a knowledge within the heart, beyond the reach of proof.

Khalil Gibran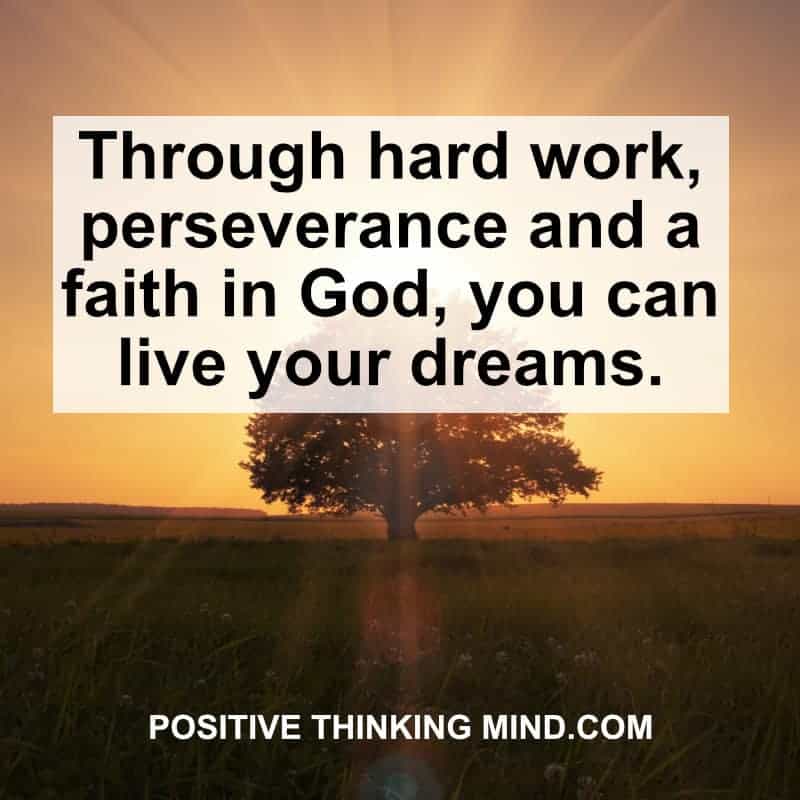 Through hard work, perseverance and a faith in God, you can live your dreams.

Ben Carson
Faith is a choice to trust God even when the road ahead seems uncertain.

Dave Willis
Faith it till you make it.

Anonymous
My faith didn't remove the pain, but it got me through the pain. Trusting God didn't diminish or vanquish the anguish, but it enabled me to endure it.

Robert Rogers | Trust God Quotes
Only God can shut out the waves of depression and feelings of loneliness and failure that come over you. Faith in God's love alone can salvage the hurt mind.

David Wilkerson
To have faith is to trust yourself to the water. When you swim you don't grab hold of the water, because if you do you will sink and drown. Instead you relax, and float.

Alan Watts
Believe in yourself, and the rest will fall into place. Have faith in your own abilities, work hard, and there is nothing you cannot accomplish.

Brad Henry
Though you have not seen him, you love him; and even though you do not see him now, you believe in him and are filled with an inexpressible and glorious joy, for you are receiving the end result of your faith, the salvation of your souls.

1 Peter 1:8-9
None of us knows what might happen even the next minute, yet still we go forward. Because we trust. Because we have Faith.

Paulo Coelho
Faith Moves Mountains
Faith moves mountains, but you have to keep pushing while you are praying.

Henry David Thoreau
Choose faith instead of fear and life will become a lot more fun.

Dave Willis
Our pride insists we must work our way to God. Only the Christian faith presents God's grace as unconditional.

Randy Alcorn
When we in faith embrace Christ as our Lord and Savior, our minds are transformed.

John MacArthur Jr
A positive statement propels hope toward a better future, it builds up your faith and that of others, and it promotes change.

Jan Dargatz | Positive Quotes
Self belief is the root of the confidence you need, meaning you have faith in all your experience and expertise to make the right decisions, particularly when under pressure.

Philip West
Your hardest times often lead to the greatest moments of your life. Keep the faith. It will all be worth it in the end

Anonymous
Keep faith. The most amazing things in life tend to happen right at the moment you're about to give up hope.

Anonymous
Faith is what makes life bearable, with all its tragedies and ambiguities and sudden, startling joys.

Madeleine L'Engle
Stand straight, walk proud, have a little faith.

Garth Brooks
Through the centuries millions and millions of people have found peace with God through faith in the Lord Jesus.

Stanford Murrell
God Quotes
Faith is not the power of positive thinking; it is believing in God and trusting that His will is always best even when you cannot understand why.

Shari Howerton
God Himself created the world by the power of His voice. Surely He can do a small thing like build a church that is rich in diversity. And given our history, when it happens we will all know that it is the Lord's good doing.

Trillia J. Newbell
Always pray to have eyes that see the best in people, a heart that forgives the worst, a mind that forgets the bad, and a soul that never loses faith in God.

Anonymous
When you have faith in yourself you don't need others to believe in you.

Anonymous
Whatever you want in life, other people are going to want it too. Believe in yourself enough to accept the idea that you have an equal right to it.

Diane Sawyer
To one who has faith, no explanation is necessary. To one without faith, no explanation is possible.

Thomas Aquinas
Because you know that the testing of your faith produces perseverance.

James 1:3 | Perseverance Quotes
Faith is taking the first step even when you don't see the whole staircase.

Martin Luther King Jr.
Your future is as bright as your faith.

Anonymous
You must not lose faith in humanity. Humanity is like an ocean; if a few drops of the ocean are dirty, the ocean does not become dirty.

Mahatma Gandhi
The smallest seed of faith is better than the largest fruit of happiness.

Henry David Thoreau
Will you start everyday with a new hope, leave bad memories behind and have faith for a better tomorrow?

Melissa Eshleman
Faith is the belief that God will do what is right.

Max Lucado
Faith. It's all about believing. You don't know how it will happen. But you know it will.

Anonymous
Only in the darkness can you see the stars.

Martin Luther King Jr.
No matter what has happened to you in the past or what is going on in your life right now, it has no power to keep you from having an amazingly good future if you will walk by faith in God. God loves you! He wants you to live with victory over sin so you can possess His promises for your life today!

Joyce Meyer
Accept the one whose faith is weak, without quarreling over disputable matters.

Romans 14:1
How do you have faith? Simply start living by faith, pray earnestly and humbly, and get into the habit of looking expectantly for the best.

Dr. Norman Vincent Peale
Grace Quotes
My mother's grace was such that her help could always be accepted without embarrassment by the recipient. She lived the basic principle of the Jewish faith: do good to others.

Ludvik Wieder
The reason birds can fly and we can't is simply because they have perfect faith, for to have faith is to have wings.

.J. M. Barrie
When you have come to the edge, faith is knowing you will be taught to fly.

Anonymous
Faith is like WiFi. It's invisible, but it has the power to connect you to what you need.

Anonymous
Faith gives you an inner strength and a sense of balance and perspective in life.

Gregory Peck
A grateful heart is a beginning of greatness. It is an expression of humility. It is a foundation for the development of such virtues as prayer, faith, courage, contentment, happiness, love, and well-being.

James E. Faust
The end of an honorable life is abundant and eternal life. It comes from living in faith.

Kenneth Copeland
There is no question that faith is a key element in effective prayer. On one occasion, Jesus could not do many miracles in a certain place because of the unbelief of the people there.

Greg Laurie
Faith that it's not always in your hands or things don't always go the way you planned, but you have to have faith that there is a plan for you, and you must follow your heart and believe in yourself no matter what.

Martina McBride
I believe in Christianity as I believe that the sun has risen: not only because I see it, but because by it I see everything else.

C.S. Lewis
Sometimes beautiful things come into our lives out of nowhere. We can't always understand them, but we have to trust in them. I know you want to question everything, but sometimes it pays to just have a little faith.

Lauren Kate
If I have the gift of prophecy and can fathom all mysteries and all knowledge, and if I have a faith that can move mountains, but do not have love, I am nothing.

1 Corinthians 13:2
God is calling for His church to arise in the hour of crisis. We must invade enemy territory through prayer, and by exercising faith that manifests the peace of God in our lives.

Lydia Chorpening
Faith. It does not make things easy, it makes them possible.

Anonymous
Doubt your doubts before you doubt your faith.

Dieter F. Uchtdorf
Have Faith Quotes
Faith is no irresponsible shot in the dark. It is a responsible trust in God, who knows the desires of your hearts, the dreams you are given, and the goals you have set. He will guide your paths right.

Robert Schuller
You are loving, as well as kind, You have a sincere heart And I admire your faith in God You cherish your virtue As I value my own.

Christine John
Faith is a very important attribute to positive thinking.

Hanif Raah
Faith isn't the ability to believe long and far into the misty future. It's simply taking God at His Word and taking the next step.

Joni Erickson Tada
Every day you need to get a full dose of the Word and mediate on scripture, and if you discipline yourself and remain consistent, your faith will grow and mature, and remember that God, the Word, and your faith, is a recipe for success.

Stephanie Williams­­­
By our faith, and with the help of God, we can build the character of our children in a way that honors God and can move the world in the right direction.

Derek Polen
Faith is no irresponsible shot in the dark. It is a responsible trust in God, who knows the desires of your hearts, the dreams you are given, and the goals you have set. He will guide your paths right.

Robert Schuller
I'm not perfect. I'm never going to be. And that's the great thing about living the Christian life and trying to live by faith, is you're trying to get better every day. You're trying to improve.

Tim Tebow
Faith is not the belief that God will do what you want. It is the belief that God will do what is right.

Max Lucado
Technology is nothing. What's important is that you have a faith in people, that they're basically good and smart, and if you give them tools, they'll do wonderful things with them.

Steve Jobs