262 Positive Words That Start With M
Our list of positive words that start with M is Magical and Magnificent. Sometimes M gets a little mixed up with N as it is so similar sounding, but each letter is made totally different from each other with the mouth.
The letter M is impossible to make and sound out with not pursing your lips together. Go ahead, try to say the letter M with out your lips touching together.
There are so many words beginning with M that are positive and powerful like Maestro and Master and Marvelous!
Amazingly the letter M is one of the first letters a baby makes and often times Mama is the first word out of their beautiful mouths.
Please enjoy our list of positive words starting with M and have a Marvelous day!
Products We Recommend: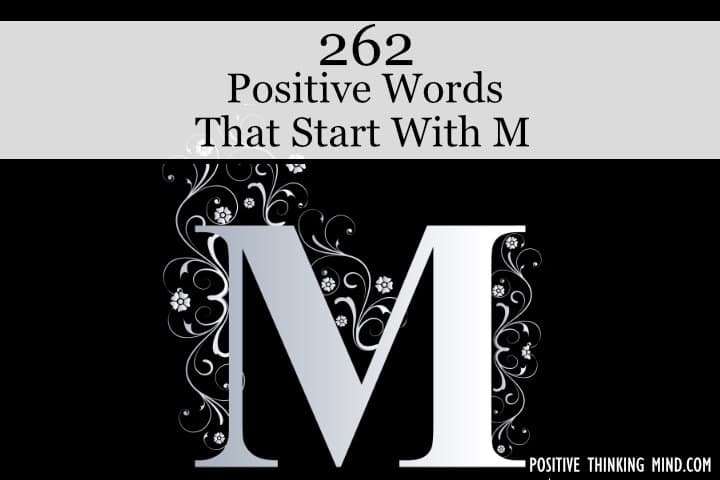 Positive Words That Start With M
Madam
Made
Maestoso
Maestro
Magi
Magic
Magical
Magnanimity
Magnanimous
Magnanimously
Magnate
Magnet
Magnetic
Magnetism
Magnificence
Magnificent
Magnificently
Magnifico
Magnify
Magniloquent
Magnitude
Mahalo
Maid
Maiden
Maidenly
Main
Mainstay
Maintain
Majestic
Majestically
Majesty
Major
Majorly
Make
Makeover
Makeup
Malleable
Mama
Mammoth
Manage
Manageable
Manager
Managerial
Maneuverable
Manifest
Manifold
Manliness
Manly
Manna
Manner
Mannerly
Manners
Maneuver
Maneuverable
Mantra
Many
Marked
Marriage
Married
Marry
Marvel
Marvelled
Marvellous
Marvellously
Marvelous
Marvelously
Marvelousness
Marvels
Mascot
Masculine
Masculinity
Mass
Massage
Massive
Massively
Master
Masterful
Masterfully
Masterly
Mastermind
Masterpiece
Masterstroke
Masterwork
Mastery
Matchless
Matchmaker
Mate
Maternal
Mateship
Matey
Matrimony
Matter
Mature
Maturely
Maturing
Maturity
Maven
Maverick
Maximal
Maximize
Maximum
May
Meaning
Meaningful
Measured
Medal
Medallion
Medalist
Mediate
Mediation
Mediator
Medication
Medicinal
Medicine
Meditate
Meditation
Meditative
Mead
Meek
Meekness
Meet
Mega
Megastar
Meliorate
Mellifluous
Mellow
Melodic
Melodious
Melody
Melt
Memento
Memorabilia
Memorable
Memory
Mensch
Mention
Mentor
Merciful
Mercifully
Mercy
Merger
Merit
Meritable
Meritocracy
Meritorious
Merrily
Merriment
Merriness
Merry
Merrymaking
Mesmerize
Mesmerized
Mesmerizing
Mesmerizingly
Messiah
Messianic
Metaphysical
Meteoric
Method
Methodical
Meticulous
Meticulously
Metier
Mettle
Mettlesome
Might
Mightily
Mighty
Mild
Mild-mannered
Mild-mannered
Million
Mil
Mim
Mind-blowing
Mindful
Mindfulness
Minikin
Ministerial
Mint
Miracle
Miraculous
Miraculously
Miraculousness
Mirth
Mirthful
Mitigate
Mitigative
Mitigatory
Mixer
Mobile
Mobility
Model
Modern
Modernistic
Modest
Modestly
Modesty
Modish
Modiste
Mogul
Moisturize
Mojo
Moment
Momentous
Mondaine
Mondo
Moneyed
Moneymaker
Money-spinner
Monumental
Monumentally
Moony
Moppet
Moral
Morale
Moralist
Morality
Moralize
More
Moreish
Mosey
Most
Motherly
Motif
Motivate
Motivated
Motivating
Motivation
Motivational
Motor
Mouthwatering
Mouth-watering
Move
Moved
Movement
Moving
Moxie
Much
Mucho
Muliebrity
Multidimensional
Multi-disciplined
Multifaceted
Multi-purpose
Multitask
Multitude
Mumsy
Munificence
Munificent
Muscle
Muscular
Muse
Musical
Musician
Must
Mutual
Mutuality
Mutually
Myriad
Mystical
Mystique
Related Post: Positive Words That Start With N