159 Positive Words That Start With H
Positive words that start with H are full of optimism and positivity. You can be Happy and Healthy and filled with Hope knowing a Hero will save you.
Letters beginning with H are often positive and offer greetings like Hi or Hello.
You can describe someone funny and Humorous, a nice person is Humble and kind or that melody is Harmonious.
H is a very happy letter and creates some of the Happiest words. I hope the letter H fills you with positivity and brightens your day.
Products We Recommend:
Positive Words That Start With H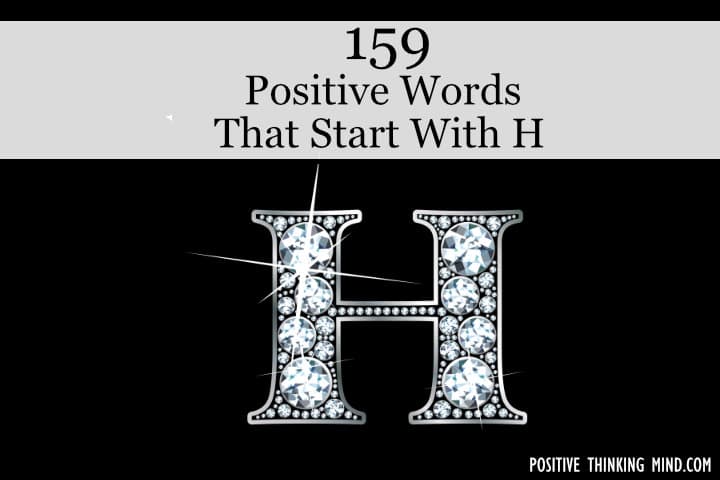 This post may contain affiliate links, you can read my disclosure policy.
Habit
Habitable
Habile
Halcyon
Hail
Hale
Hallelujah
Hallmark
Hallowed
Handsome
Handsomely
Handy
Happening
Happily
Happiness
Happy
Hardworking
Hardy
Harmless
Harmonic
Harmonious
Harmoniously
Harmonized
Harmony
Harness
Harvest
Harvester
Have
Haven
Headmaster
Headstrong
Heed
Heady
Heal
Healer
Healing
Health
Healthful
Healthy
Heart
Heartening
Heartfelt
Heartily
Hearty
Heartthrob
Heartwarming
Heaven
Heavenly
Heavyweight
Heed
Heedful
Heighten
Height
Heiress
Heirloom
Hello
Help
Helper
Helpful
Helpfully
Helpfulness
Herald
Heritage
Heritor
Hero
Heroic
Heroically
Heroine
Heroism
Hi
High
Highness
Hilarious
Hilarity
Hip
Hipster
Historic
Hit
Holiday
Holiness
Holism
Holistic
Holy
Homage
Home
Homebound
Homecoming
Homegrown
Homeland
Homely
Homemade
Homey
Hone
Honest
Honestly
Honesty
Honey
Honeymoon
Honeypot
Honeyed
Honehylike
Honor
Honorable
Honorably
Honorarium
Honorary
Honored
Honoree
Honorifics
Hoot
Hooray
Hope
Hopeful
Hopefully
Hopefulness
Hospitability
Hospitable
hospitality
Host
Hot
Hotcake
Hotshot
Howdy
Hubby
Huddle
Hug
Huge
Hugely
Huggable
Hugging
Hum
Humane
Humanely
Humanhood
Humanism
Humanist
Humanistic
Humanitarian
Humanity
Humankind
Humanly
Humble
Humbling
Humility
Humongous
Humor
Humorous
Humorously
Hunk
Hurray
Husky
Huzzah
Hygienic
Hype
Hyperactive
Hyperfine
Hypersonic
Hypnotic
Hysterical
Related Post: Positive Words That Start With J