Joy of Less Book Review – Best Organizational Book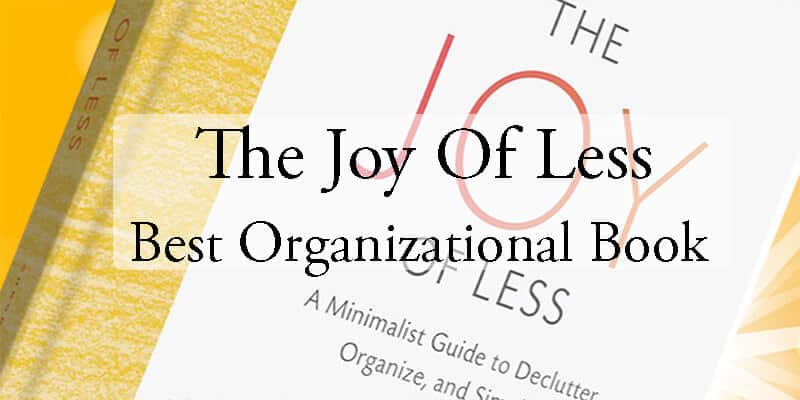 Joy of Less Book Review – About the Book
My book review of the Joy of Less – First off the look and feel of the book is beautiful and has a wonderful design and is nicely made. The font Francine Jay (author of the book) used in The Joy of Less is large and easy on the eyes making it easy to read. The book is 300 pages and is pretty hefty but I found it easy to jump to the different sections I needed to read at the time, like when I was decluttering my bedroom or decluttering my living room.
The Joy of Less is well structured and gives a plan of attack for each room and is structured into four parts:
Philosophy of Minimalism – teaches you how to look at your possessions differently
STREAMLINE decluttering – explains what to keep and get rid of
Room by Room decluttering – shows ways to go through each room
Tips on deluttering your schedule and lifestyle – learn to say "no", eliminate excess activties, etc.
Part One tackles the relationship we have to our "stuff" and why in our head "think" we need to have this stuff and accumulate things. As Francine puts it "In pursuing a minimalist lifestyle, we need to resist the temptation to recreate the outside world within our abodes."
She also has you make a list of things that you have in each room, Francine Jay is serious and takes no prisoners in her approach on decluttering your home. Just making this list helped me realize how much junk I had in each and every room. Wow I have a lot of stuff!
Part Two of Joy of Less, Francine Jay bases cleaning on an acronym STREAMLINE, meaning:
S – Start Over
T – Trash, Treasure, or Transfer
R – Reason for each item
E – Everything in its place
A – All surfaces clear
M – Modules
L – Limits
I – If one comes in, one goes out
N – Narrow it down
E – Everyday maintenance
Francine says "the idea is not to choose the things we'll get rid of, but to choose the things we'll keep." This section starts to build a strategy of how to declutter the rooms. I had things on my desk, my table most of it junk and paperwork. It made it really hard to do the bills because I was always mixing things up with all the junk I had laying around.
Part Three of The Joy of Less goes room by room and is pretty much the same in every room. Seems a little repetitive but absolutely needed. When I was cleaning out my closet of clothes, I started wondering about why I bought so many clothes. This section also includes ways to keep on top of the clutter because of other family members who are not following the practices of the book.
Part Four talks about life outside of your home and the ways we purchase or don't purchase items from stores. Being more conscious of the things we buy and consume helps to better the world around us and focus on things and the way they are packaged or recycled what things are made of. Us as consumers have the power to change the world so to speak by choosing what we buy.

Who Is The Joy of Less For
The Joy of Less is for people who have so much junk in their homes and want to get rid of it and clean and live responsibly. It's for people who are tired of living daily life being owned by their possessions, want to stop wasting time trying to find something that's hidden underneath other items, or tired of spending so much money on things you really don't need. The Joy of Less will provide tips on how to prioritize and "STREAMLINE" your daily life and make your home organized and happy turning it into a sanctuary.
About The Author
Francine Jay runs the website Miss Minimalist which is based on The Joy of Less. Her first book Frugillionaire focused on saving money and living well and has been featured on CNN(Living Happily with Less), BBC, Forbes (How To Have More by Owning Less), The Guardian and NBC Today.
What I Liked About The Book
I really enjoyed Joy of Less and it helped me organize and reclaim the space I had in my home (didn't realize my home was so big!). This guide provided a lot of down to earth actionable tips and advice that made it easy for me to understand the exact steps I should take to clean my home. I also enjoyed how she wrote and explained about my rooms and how they don't have to be empty and boring but to pay attention on things I was buying and accumulating.
Decluttering your home is not easy, it takes work and you have to take action but the end result is simply amazing and I absolutely love my home now.