55 Awesome Saturday Quotes
These Saturday quotes will help you kick off an exciting weekend because you are free to do whatever you want.
Saturday is all about having fun with our friends, taking in some entertainment, doing a fun project around the house, or just relaxing.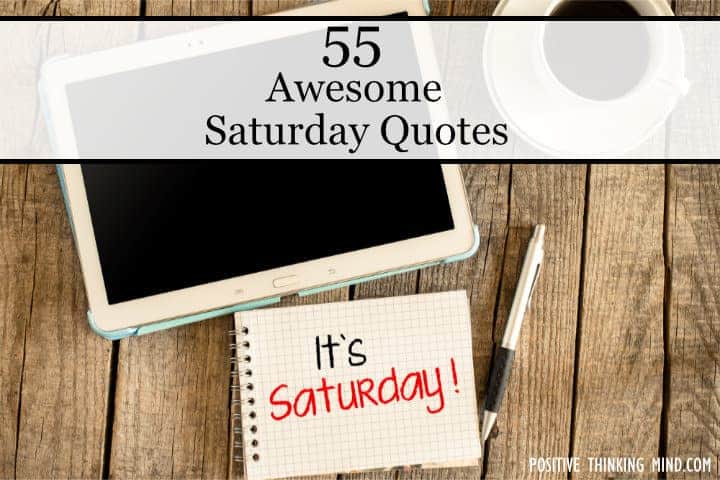 Read these Saturday quotes and let them remind you to have a fantastic day!
Saturday Quotes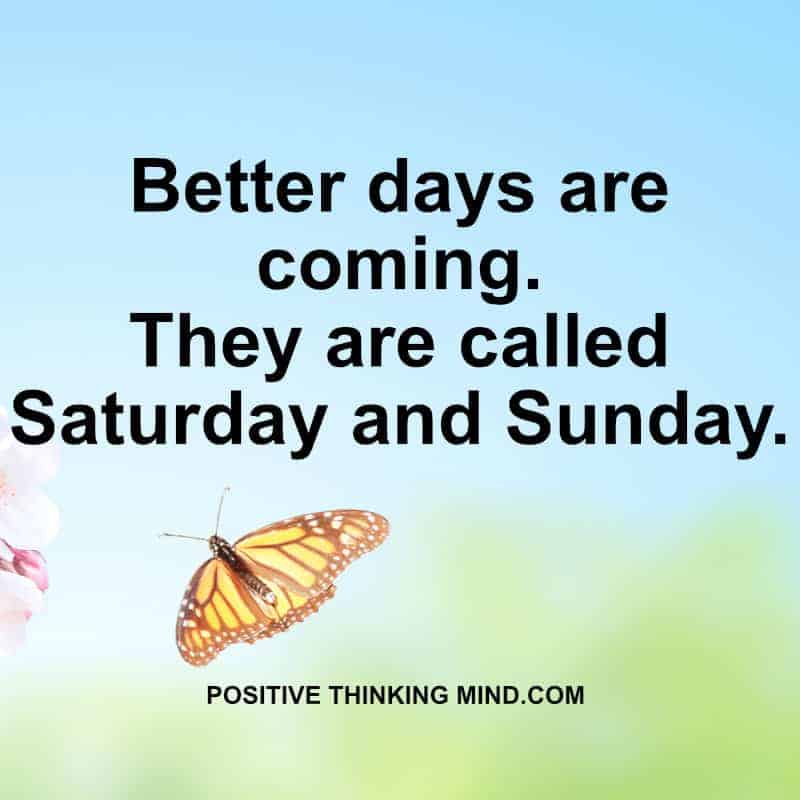 Better days are coming. They are called Saturday and Sunday.

Unknown
Technology need not hamstring or prevent you from enjoying your Saturday. The best and easiest solution to those emails or texts that speak of work issues is to turn it off until Monday morning.

Byron Pulsifer
Condition yourself to success. Only a success-seeking mind will attain success. So become mentally fit by mastering positive thinking, developing success habits and routines.

Lavanya Jayakumar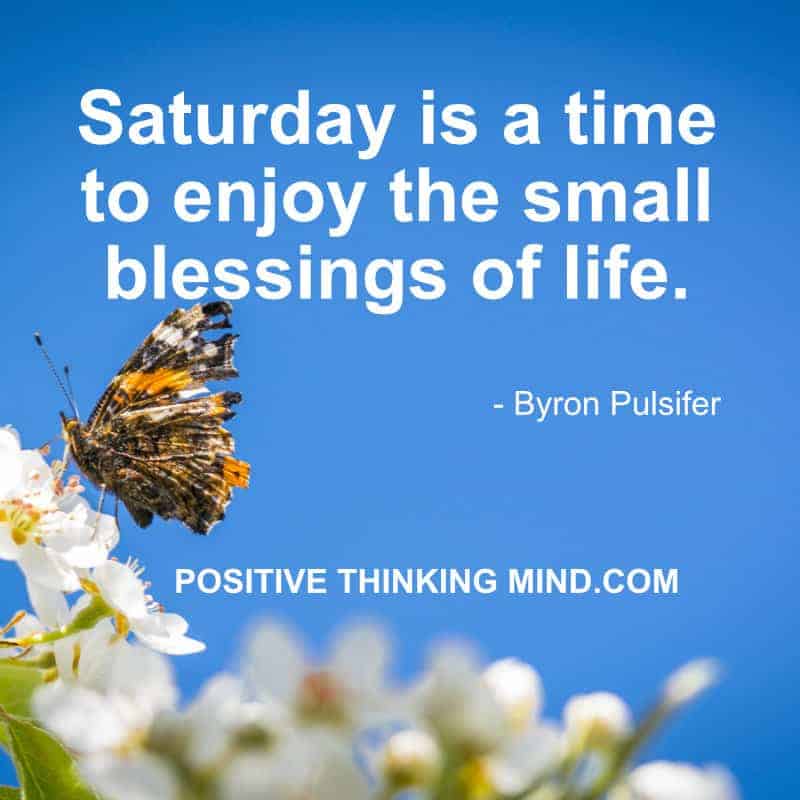 Saturday is a time to enjoy the small blessings of life.

Byron Pulsifer

Saturday – a day to sleep in past my normal waking hour. A day to relish, enjoy and celebrate the goodness that I have been blessed with.

Byron Pulsifer
Middle age is when you're sitting at home on a Saturday night and the telephone rings and you hope it isn't for you.

Ogden Nash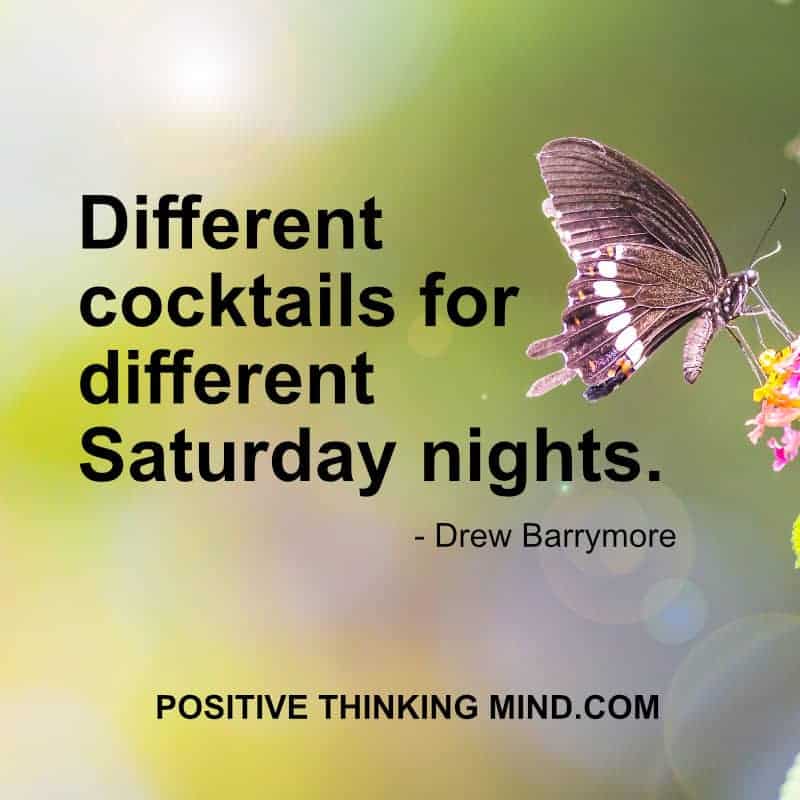 Different cocktails for different Saturday nights.

Drew Barrymore
My mission in life is not merely to survive, but to thrive; and to do so with some passion, some compassion, some humor, and some style.

Maya Angelou
Procrastination is as much alive on a Saturday as any other day of the week. Get up, get going, and get those chores done. You can visit with your pillow later.

Byron Pulsifer
There was nothing like a Saturday – unless it was the Saturday leading up to the last week of school and into summer vacation.

Nora Roberts
Who is the person you are inspired by most? Is it a family member? A teacher? A public figure? Your child? Why do they inspire you? Are they brave? Motivated? Serene? Today, think about people who inspire you and what it is about them you find inspiring.

Kate Anderson
My Saturday morning attitude is a reflection of the rest of the week gone by. That's why I always aim to end my week on a high note of accomplishment, a goal reached, or, a person encouraged.

Byron Pulsifer
Imagine living a life where every day are your Saturdays and Sundays. Make every day your weekend. Make every day a play-day.

James A. Murphy
The word saturday has the word sat in it. Make sure your take the time this day to sit and relax.

Catherine Pulsifer
The best and most beautiful things in this world cannot be seen or even heard, but must be felt with the heart.

Helen Keller
Love me like Saturday night, like three glasses of champagne, like the room is spinning, like you're drunk on my love.

C.J. Carlyon
The difference between those who succeed and fail: not taking advantage of opportunities.

Eric Thomas
Think of a special friend or person you admire. Think of the love and appreciation you have for them. Think of the qualities that make them stand out for you.

Jenny Clift
I told myself that I was going to live the rest of my life as if it were Saturday.

Chip Gaines
I have to be alone very often. I'd be quite happy if I spent from Saturday night until Monday morning alone in my apartment. That's how I refuel.

Audrey Hepburn
It's not that we spend five days looking forward to just two. It's that most people do what they enjoy most on those two days. Imagine living a life where everyday are your Saturdays and Sundays. Make everyday your weekend. Make everyday a play-day…

― James A. Murphy
Take a few minutes in the quiet of a Saturday afternoon to think about how you can make your work environment more amenable to conduct your tasks or projects more effectively.

Byron Pulsifer
Saturday is the mightiest day of the week. It's unshakably, overwhelmingly superior. Not only is it a day off of school, the following day is also a day off, like some kind of Super Saiyan bargain sale.

Wataru Watari
One thing about Saturday morning is that you can feel relax to get wife prepare some delicious fried eggs, to be eaten along with sliced bread and tea. Hmm… I love that feeling of been with my family on Saturdays.
Dear Saturday. I love you big time.

Unknown
It's Saturday. Enjoy the day with the ones you love. Chill and relax!

Unknown
Oh my sweet Saturday, I have been waiting for you for six long days

Charmaine J Forde
Saturday CHORES in Barbados way back when:

Clean the house. Wash school uniforms by hand with Breeze powder detergent. Complete Voice of Prophecy lessons…

I really miss those childhood days in "My Sweet Barbados"

Charmaine J. Forde
In New York it seems like there's no Monday or Saturday or Sunday. The town is always moving. The vibe is great.

Thierry Henry
Without Saturday, Sunday would just be another day of the week.

Anthony T. Hincks
I learned that the hardest party to pull off successfully is Saturday night dinner.

Ina Garten
I'm not sure what it was or where she sprayed it, but her scent will be the end of the life I loved. And I will find comfort in the simpleness of sitting with her on a Saturday afternoon with nothing else to do.

Darnell Lamont Walker, Book of She
I like work/life separation, not work/life balance. What I mean by that is, if I'm on, I want to be on and maximally productive. If I'm off, I don't want to think about work. When people strive for work/life balance, they end up blending them. That's how you end up checking email all day Saturday.

Tim Ferriss
A kind of joyous hysteria moved into the room, everything flying before the wind, vehicles outside getting dented to hell, the crowd sweaty and the smells of aftershave, manure, clothes dried on the line, your money's worth of perfume, smoke, booze; the music subdued by the shout and babble through the bass hammer could be felt through the soles of the feet, shooting up the channels of legs to the body fork, center of everything. It is the kind of Saturday night that torches your life for a few hours, makes it seem like something is happening.

Annie Proulx
Saturday night is your big night. Everybody used to fry up fish and have one hell of a time. Find me playing till sunrise for 50 cents and a sandwich. And be glad of it. And they really liked the low-down blues.

Muddy Waters
Your body tells you what it needs, and if you sleep past your alarm on a Saturday morning, it's probably because you need the sleep.

Sophia Bush
Most people are in a factory from nine till five. Their job may be to turn out 263 little circles. At the end of the week they're three short and somebody has a go at them. On Saturday afternoons they deserve something to go and shout about.

Rodney Marsh
It's not that we spend five days looking forward to just two. It's that most people do what they enjoy most on those two days. Imagine living a life where every day are your Saturdays and Sundays. Make every day your weekend. Make every day a play-day.

James A. Murphy
Love me like Saturday night, like three glasses of champagne, like the room is spinning, like you're drunk on my love.

C.J. Carlyon
It was four o'clock of a stickily wet Saturday. As long as it is anything from Monday to Friday the average library attendant goes around thanking her stars she isn't a school-teacher; but the last day of the week, when the rest of the world is having its relaxing Saturday off and coming to gloat over you as it acquires its Sunday-reading best seller, if you work in a library you begin just at noon to wish devoutly that you'd taken up scrubbing-by-the-day, or hack-driving, or porch-climbing or- anything on earth that gave you a weekly half-holiday!

Margaret Widdemer
I'm not sure what it was or where she sprayed it, but her scent will be the end of the life I loved. And I will find comfort in the simpleness of sitting with her on a Saturday afternoon with nothing else to do.

Darnell Lamont Walker
Honestly, I never really understood the glorification of Fridays & weekends.

I don't want to build a life and career, where I spent five days a week waiting for the weekend. No!

I want to enjoy my life, and don't wish any weekday away. I want each day to matter to me, in some way, even if it's a small tiny way.

I love my life. Everyday. That's the spirit we should convey all around us.

Akilnathan Logeswaran
This generation is so dead. You ask a kid, 'What are you doing this Saturday?' and they'll be playing video games or watching cable, instead of building model cars or airplanes or doing something creative. Kids today never say, 'Man, I'm really into remote-controlled steamboats.

Jack White
What can be better than to get out a book on Saturday afternoon and thrust all mundane considerations away till next week.

C. S. Lewis
Saturday night is perfect for writers because other people have "plans."

Mike Birbiglia
Saturday mornings, I've learned, are a great opportunity for kids to sneak into your bed, fall back asleep, and kick you in the face.

Dan Pearce
I love Saturday nights with my best friend and a big bowl of pasta, wanting a good scare, something that will say, 'Listen, your life is not as bad as this. Your life can be so much worse'.

Vera Farmiga
On a lazy Saturday morning when you're lying in bed, drifting in and out of sleep, there is a space where fantasy and reality become one.

Lynn Johnston
I miss Saturday morning, rolling out of bed, not shaving, getting into my car with my girls, driving to the supermarket, squeezing the fruit, getting my car washed, taking walks.

Barack Obama
I wish that every day was Saturday and every month was October.

Charmaine J. Forde
You make me feel Monday is Saturday.

Avijeet Das
Saturday is birthday cake day. During the week, the panadería is all strong coffee and pan dulce. But on weekends, it's sprinkle cookies and pink cake. By ten or eleven this morning, we'll get the first rush of mothers picking up yellow boxes in between buying balloons and paper streamers.

Anna-Marie McLemore, Hungry Hearts: 13 Tales of Food & Love
"It was a beautiful Saturday. We were sitting in a cafe, and enjoying our coffee. Looking intently at me, she asked " What catches your interest when you meet someone for the first time?" I took a sip of my Americano, and replied "Eyes! Eyes reveal. Eyes speak the unsaid words." She smiled and whispered "What do my eyes reveal? What do they tell you in unsaid words?"

Avijeet Das
Happy Saturday! Study nature, love nature, stay close to nature. It will never fail you.

Frank Lloyd Wright
I'm not an early bird at all. Ideally, on Saturday morning I'd allow myself a lovely lie-in. 10:45 would be just right.

Shilpa Shetty
There are just two kinds of girls. Those who go downtown Saturday nights, and those who don't.

Edna Ferber