123 Positive Words That Start With V
The 22 letter in the alphabet creates many positive words that start with V. Our vast collection will leave you feeling vibrant and victorious!
The letter V can sometimes be challenging as there are not many V words.
Use our collection of V words vigorously with what ever you are doing and we will strive to continue to bring value with our words.
Be more positive with these astounding positive resources!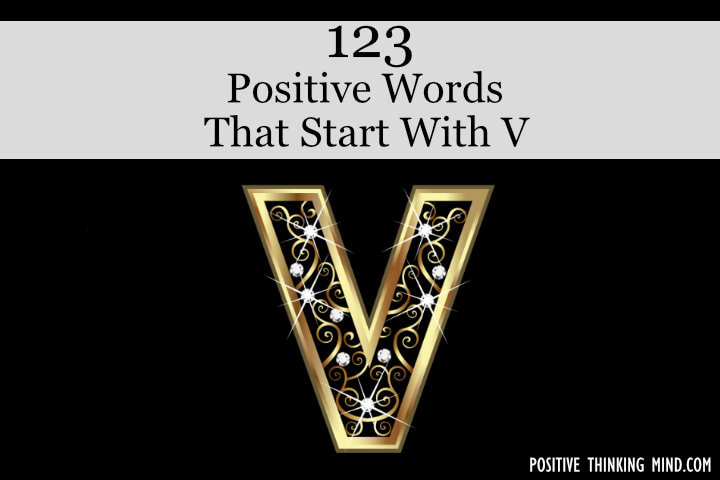 Positive Words That Start With V
Vacation
Vail
Valedictorian
Valentia
Valentine
Valiant
Valiantly
Valid
Validate
Validated
Validity
Valor
Valorize
Valorous
Valor
Value
Valuable
Valuably
Valued
Vamp
Vanguard
Vantage
Variety
Vast
Vastly
Vaticinate
Vaticinator
Vaudeville
Vaulting
Vegetate
Vehement
Vehemently
Venerable
Venerate
Venerated
Veneration
Ventilate
Venture
Venturesome
Veracious
Veraciously
Veraciousness
Veracity
Verdant
Verdure
Verdurous
Veridical
Verifiable
Verification
Verified
Verify
Vermilion
Vernal
Vernally
Versatility
Versatile
Versatilely
Versatility
Versed
Verve
Very
Veteran
Viable
Vibrant
Vibrantly
Victory
Victorious
Victoriously
Victor
Victrix
Viewable
Vigil
Vigilance
Vigilant
Vigilantly
Vigor
Vigorous
Vigorously
Vigorousness
Vigor
Vindicate
Vintage
VIP
Virago
Virgin
Virginity
Virile
Virility
Virtue
Virtuosity
Virtuoso
Virtuous
Virtuously
Visible
Vision
Visionary
Visit
Vista
Vital
Vitalize
Vitality
Vitalize
Vitally
Vivacious
Vivacity
Vivid
Vividly
Vivify
Vocal
Vocation
Vogue
Volant
Volitional
Volume
Voluntary
Volunteer
Volunteer
Voluptuous
Voracious
Votary
Vouch
Vow
Vulnerary
Related Post: Positive Words That Start With W