November Quotes and November Sayings
Here are 57 November Quotes and November Sayings that will make you thankful for fall and find the right words to celebrate the month of gratitude.
By now, the leaves on the trees have changed to beautiful colors, and most have fallen to the ground.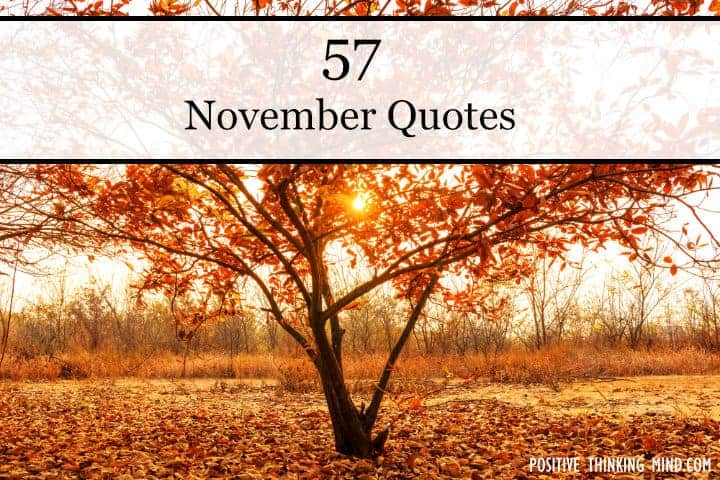 You have eaten most of your Halloween candy, planted your fall flowers, have carved your pumpkins, and pulling out the sweaters and jackets for colder weather.
November is the best month of Autumn, which includes Thanksgiving and spending time with your family and friends to celebrate and give thanks.
We love November just as much as you, so we created this beautiful collection of November Quotes and November Sayings to get you in the spirit.
Also read these amazing Quotes About Water and our popular Epic Quotes About Light.
November Quotes
In November, the smell of food is different. It is an orange smell. A squash and pumpkin smell. It tastes like cinnamon and can fill up a house in the morning, can pull everyone from bed in a fog. Food is better in November than any other time of the year.

Cynthia Rylant
Every year, in November, at the season that follows the hour of the dead, the crowning and majestic hours of autumn, I go to visit the chrysanthemums … They are indeed, the most universal, the most diverse of flowers.

Maeterlinck
November wind has a sound different from any other. It is easy to imagine the cave of the winds in some mythical Northland where the winds are born and the gods send them out to conquer the quiet air.

Gladys Taber
There comes a time when people get tired of being pushed out of the glittering sunlight of life's July and left standing amid the piercing chill of an alpine November.

Martin Luther King Jr.
The wind that makes music in November corn is in a hurry. The stalks hum, the loose husks whisk skyward in half-playing swirls, and the wind hurries on… A tree tries to argue, bare limbs waving, but there is no detaining the wind.

Aldo Leopold
October is the month for painted leaves. Their rich glow now flashes round the world. As fruits and leaves and the day itself acquire a bright tint just before they fall, so the year near its setting. October is its sunset sky; November the later twilight.

Henry David Thoreau
What we're really talking about is a wonderful day set aside on the fourth Thursday of November when no one diets. I mean, why else would they call it Thanksgiving?

Erma Bombeck
November Sayings
The legend lives on from the Chippewa on down
Of the big lake they called Gitche Gumee
The lake, it is said, never gives up her dead
When the skies of November turn gloomy
With a load of iron ore twenty-six thousand tons more
Than the Edmund Fitzgerald weighed empty
That good ship and true was a bone to be chewed
When the gales of November came early

Gordon Lightfoot
In the sad November time,
When the leaf has left the lime,
And the Cam, with sludge and slime,
Plasters his ugly channel,
While, with sober step and slow,
Round about the marshes low,
Stiffening students stumping go
Shivering through their flannel.

James Clerk Maxwell
Spring's wakening bugle long is hushed,
Long dimm'd is Summer's splendour;
October yields her easel bright
To "black and white" November!

James Rigg
The melancholy days are come, the saddest of the year,
Of wailing winds, and naked woods, and meadows brown and sear.
Heaped in the hollows of the grove, the withered leaves lie dead…
Where are the flowers, the fair young flowers, that lately sprang and stood
In brighter light and softer airs, a beauteous sisterhood?…
The rain is falling where they lie, but the cold November rain,
Calls not, from out the gloomy earth, the lovely ones again.

William Cullen Bryant – "The Death Of Flowers"
I love to see the cottage smoke
Curl upwards through the trees,
The pigeons nestled round the cote
On November days like these…

John Clare – "Autumn"
Dull November brings the blast,
Then the leaves are whirling fast.

Sara Coleridge
November Poems
November comes
And November goes,
With the last red berries
And the first white snows.

With night coming early,
And dawn coming late,
And ice in the bucket
And frost by the gate.

The fires burn
And the kettles sing,
And earth sinks to rest
Until next spring.

Elizabeth Coatsworth
So dull and dark are the November days.
The lazy mist high up the evening curled,
And now the morn quite hides in smoke and haze;
The place we occupy seems all the world.

John Clare – "November"
But there is always a November space after the leaves have fallen when she felt it was almost indecent to intrude on the woods…for their glory terrestrial had departed and their glory celestial of spirit and purity and whiteness had not yet come upon them.

L.M. Montgomery
In November, the trees are standing all sticks and bones. Without their leaves, how lovely they are, spreading their arms like dancers. They know it is time to be still.

Cynthia Rylant
It is the first day of November and so, today, someone will die.

Maggie Stiefvater
Fallen leaves lying on the grass in the November sun bring more happiness than daffodils. Spring is a call to action, hence to disillusion, therefore is April called "the cruellest month." Autumn is the mind's true Spring; what is there we have, "quidquid promiserat annus" and it is more than we expected.

Cyril Connolly
The thinnest yellow light of November is more warming and exhilarating than any wine they tell of. The mite which November contributes becomes equal in value to the bounty of July.

Henry David Thoreau
The womb is not a clock
nor a bell tolling,
but in the eleventh month of its life
I feel the November
of the body as well as of the calendar.
In two days it will be my birthday
and as always the earth is done with its harvest.

Anne Sexton
The world is tired, the year is old,
The faded leaves are glad to die.

Sara Teasdale
When shriek'd
The bleak November winds, and smote the woods,
And the brown fields were herbless, and the shades,
That met above the merry rivulet,
Were spoil'd, I sought, I loved them still,—they seem'd
Like old companions in adversity.

William Cullen Bryant
Autumn Quotes
November is usually such a disagreeable month as if the year had suddenly found out she was growing old and could do nothing but weep and fret over it.

Anne Shirley
The month of November makes me feel that life is passing more quickly. In an effort to slow it down, I try to fill the hours more meaningfully.

Henry Rollins
The house was very quiet, and the fog—we are in November now—pressed against the windows like an excluded ghost.

E.M. Forster
It looked like the world was covered in a cobbler crust of brown sugar and cinnamon.

Sarah Addison Allen
Don't wait until the fourth Thursday in November, to sit with family and friends to give thanks. Make every day a day of Thanksgiving!

Charmaine J. Forde
November always seems to me the Norway of the year.

Emily Dickinson
Apart from the pleasures of gardening, November has beauty of its own. The Saxons called it wind-month, for then the fishermen drew up their boats and abandoned fishing till the spring; it was called the slaughter-month, too, when pigs and cattle were salted down for preservation throughout the winter.

Victoria Sackville-West
November woods are bare and still;
November days are clear and bright;
Each noon burns up the morning's chill;
The morning's snow is gone by night…
November woods are bare and still;
November days are bright and good;
Life's noon burns up life's morning chill;
Life's night rests feet which long have stood…

Helen Fiske Hunt Jackson – "Down to Sleep"
Welcome sweet November, the season of senses and my favorite month of all.

Gregory F. Lenz
I… invite my fellow-citizens in every part of the United States, and also those who are at sea and those who are sojourning in foreign lands, to set apart and observe the last Thursday of November next as a day of thanksgiving and praise to our beneficent Father who dwelleth in the heavens.

Abraham Lincoln
Even when November's sun is low and Winter flaps his fleecy wings, Thy gold among his silvery snow a solace in the sadness brings.

James Rigg
Autumn is a second spring when every leaf is a flower.

Albert Camus
A barren realm of withered fields,
Bleak woods, and falling leaves,
The palest morns that ever dawned;
The dreariest of eves.
It is no wonder that she comes,
Poor month! with tears of pain;
For what can one so hopeless do
But weep, and weep again.

R.H. Soddard
More November Quotes
Fallen leaves lying on the grass in the November sun bring more happiness than the daffodils.

Cyril Connolly
November is auspicious in so many parts of the country: the rice harvest is already in, the weather starts to cool, and the festive glow which precedes Christmas has began to brighten the landscape.

F. Sionil Jose
A morning arrives in November, a leafless, birdless, coming of winter morning, when she cannot rouse herself to exclaim: 'Oh my, it's fruitcake weather!' And when that happens, I know it. A message saying so merely confirms a piece of news some secret vein had already received, severing from me an irreplaceable part of myself, letting it loose like a kite on a broken string.

Narrator
Thicker than rain-drops on November thorn.

Samuel Taylor Coleridge
Fall has always been my favorite season. The time when everything bursts with its last beauty, as if nature had been saving up all year for the grand finale.

Lauren DeStefano
The verse of autumntide is set to soberer measures than that of the other seasons. The evening of the year has come; and as the shadows draw closer with each successive month, the poetry of the season passes by slow degrees from the major key of early September to the sad minor or late November.

Oscar Fay Adams
This is the month of nuts and nutty thoughts,—that November whose name sounds so bleak and cheerless. Perhaps its harvest of thought is worth more than all the other crops of the year.

Henry David Thoreau
Aprils have never meant much to me, autumns seem that season of beginning, spring.

Truman Capote
And November sad, – a psalm Tender, trustful, full of balm, Thou must breathe in spirits calm.

Caroline May
Some of the days in November carry the whole memory of summer as a fire opal carries the color of moonrise.

Gladys Taber
I cannot endure to waste anything so precious as autumnal sunshine by staying in the house.

Nathaniel Hawthorne
My Sorrow, when she's here with me,
Thinks these dark days of autumn rain
Are beautiful as days can be…
The desolate, deserted trees,
The faded earth, the heavy sky…
Not yesterday I learned to know
The love of bare November days
Before the coming of the snow…

Robert Frost
This is November of the hardest kind, bare frozen ground covered with pale brown or straw-colored herbage, a strong, cold, cutting north wind…. This month taxes a walker's resources more than any other…. If you do feel any fire at this season out of doors, you may depend upon it, it is your own…. You can hardly screw up your courage to take a walk when all is thus tightly locked or frozen up, and so little is to be seen in field or wood…. Nature has herself become, like the few fruits she still affords, a very thick-shelled nut with a shrunken meat within. If I find anything to excite a warming thought abroad, it is an agreeable disappointment, for I am obliged to go willfully and against my inclination at first, the prospect looks so barren, so many springs are frozen up, not a flower, perchance, and few birds left, not a companion abroad in all these fields for me. I seem to anticipate a fruitless walk…. But then I am often unexpectedly compensated, and the thinnest yellow light of November is more warming and exhilarating than any wine they tell of.

Henry David Thoreau
Love the trees until their leaves fall off, then encourage them to try again next year.

Chad Sugg
In November, the earth is growing quiet. It is making its bed, a winter bed for flowers and small creatures. The bed is white and silent, and much life can hide beneath its blankets.

Cynthia Rylant
November is chill, frosted mornings with a silver sun rising behind the trees, red cardinals at the feeders, and squirrels running scallops along the tops of the gray stone walls.

Jean Hersey
It was November–the month of crimson sunsets, parting birds, deep, sad hymns of the sea, passionate wind-songs in the pines.

L.M. Montgomery
November's sky is chill and drear, November's leaf is red and sear.

Sir Walter Scott
Have you seen my heart, somewhere in your castle of yellow leaves?

A Waltz for Zizi
Now in November nearer comes the sun down the abandoned heaven.

D. H. Lawrence
In November you begin to know how long the winter will be.

Martha Gellhorn