65 Moon Quotes Illuminating The Darkness
This collection of moon quotes will inspire your life and give you purpose and meaning. Our moon shines beauty on the earth every night.
The moon has many imperfections but is still beautiful to look at. The night would be pitch black without the moon, and to celebrate it, we've put together this collection of quotes about the moon.
We, too, have imperfections like the moon and should reflect the beauty in all we do, as we always say, "let your light shine"!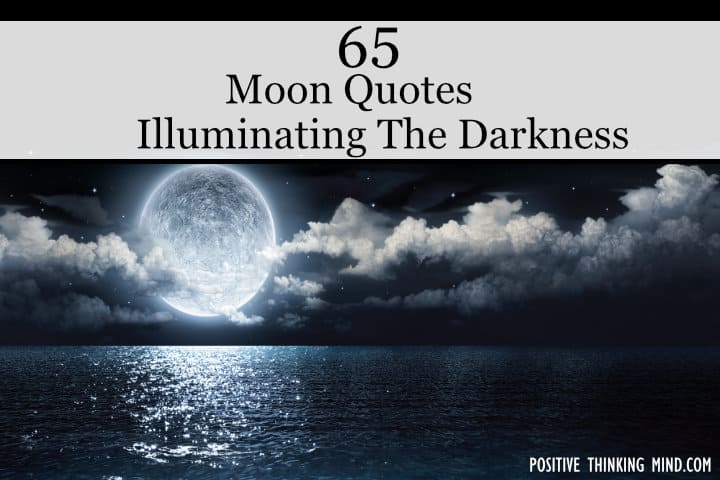 The moon orbits the earth once per month, and each night it changes shape a little. This happens because of the angle of the earth, sun, and moon change giving us cycles or moon phases.
Your life has many phases, too, happy times, sad times, dark moments. This collection of moon quotes, moon sayings, moon proverbs, and inspirational moon quotes will inspire you and motivate you to live your best life.
Moon Quotes
The moon is a friend for the lonesome to talk to.

Carl Sandburg
Related Posts:
When hope is fleeting, stop for a moment and visualize, in a sky of silver, the crescent of a lavender moon. Imagine it — delicate, slim, precise, like a paper-thin slice from a cabochon jewel. It may not be very useful, but it is beautiful. And sometimes it is enough.

Vera Nazarian
We choose to go to the moon in this decade and do the other things, not because they are easy, but because they are hard, because that goal will serve to organize and measure the best of our energies and skills, because that challenge is one that we are willing to accept, one we are unwilling to postpone, and one which we intend to win.

John F. Kennedy
Don't tell me the moon is shining; show me the glint of light on broken glass.

Anton Chekhov
The moon does not fight. It attacks no one. It does not worry. It does not try to crush others. It keeps to its course, but by its very nature, it gently influences. What other body could pull an entire ocean from shore to shore? The moon is faithful to its nature and its power is never diminished.

Deng Ming-Dao
The moon will guide you through the night with her brightness, but she will always dwell in the darkness, in order to be seen.

Shannon L. Alder
The moon is a loyal companion. It never leaves. It's always there, watching, steadfast, knowing us in our light and dark moments, changing forever just as we do. Every day it's a different version of itself. Sometimes weak and wan, sometimes strong and full of light. The moon understands what it means to be human. Uncertain. Alone. Cratered by imperfections.

Tahereh Mafi
But even when the moon looks like it's waning…it's actually never changing shape. Don't ever forget that.

Ai Yazawa
The moon was a ghostly galleon tossed upon cloudy seas."

Alfred Noyes
Shoot for the moon. Even if you miss, you'll land among the stars.

Les Brown
Quotes For The Moon
The beautiful moon is an antidepressant. Love for her light is in every heart because she is so friendly, loving and forgiving.

Debasish Mridha MD
She is twice as beautiful as the moon and all of the stars together.

Giovannie de Sadeleer
We may look at the same moon, but our hearts sing different songs depending on our inner emotions and perceptions.

Debasish Mridha MD
The sky was a midnight-blue, like warm, deep, blue water, and the moon seemed to lie on it like a water-lily, floating forward with an invisible current.

Willa Cather
I can feel the moon's love for the earth in my soul when it's magical silent silvery light touches my heart.

Debasish Mridha MD
It is no secret that the moon has no light of her own, but is, as it were, a mirror, receiving brightness from the influence of the sun.

Vitruvius
The moon will guide you through the night with her brightness, but she will always dwell in the darkness, in order to be seen.

Shannon L. Alder
During the day the Sun causes wounds. And in the night the Moon heals the wounds. The mountain waits all day for the night when his moon will be finally bright.

Suyasha Subedi
The moon stared at me through sprinkled nighttime stardust and I alone smile.

Jay Long
The moon was reigning over their world, glowing its full splendor to all those willing to look up.

Irina Serban
No living thing ever defeated Tain Hu in battle. Only the tide could fight her. Only the moon and the sea together could bring her down.

Seth Dickinson
Quotes About The Moon
Every one is a moon, and has a dark side which he never shows to anybody.

Mark Twain
As the seas are claimed, the Moon shall be the jewel in the prize. Claimed, not as a safe haven, but as an island of menace within the sky. And the last nail will have been driven home when humanity realizes their inactive mistakes.

Anthony T. Hincks
You are the sun. You bring warmth, laughter and joy—but he is the moon. He draws me into a world of mystery that I have never known.

Meredith T. Taylor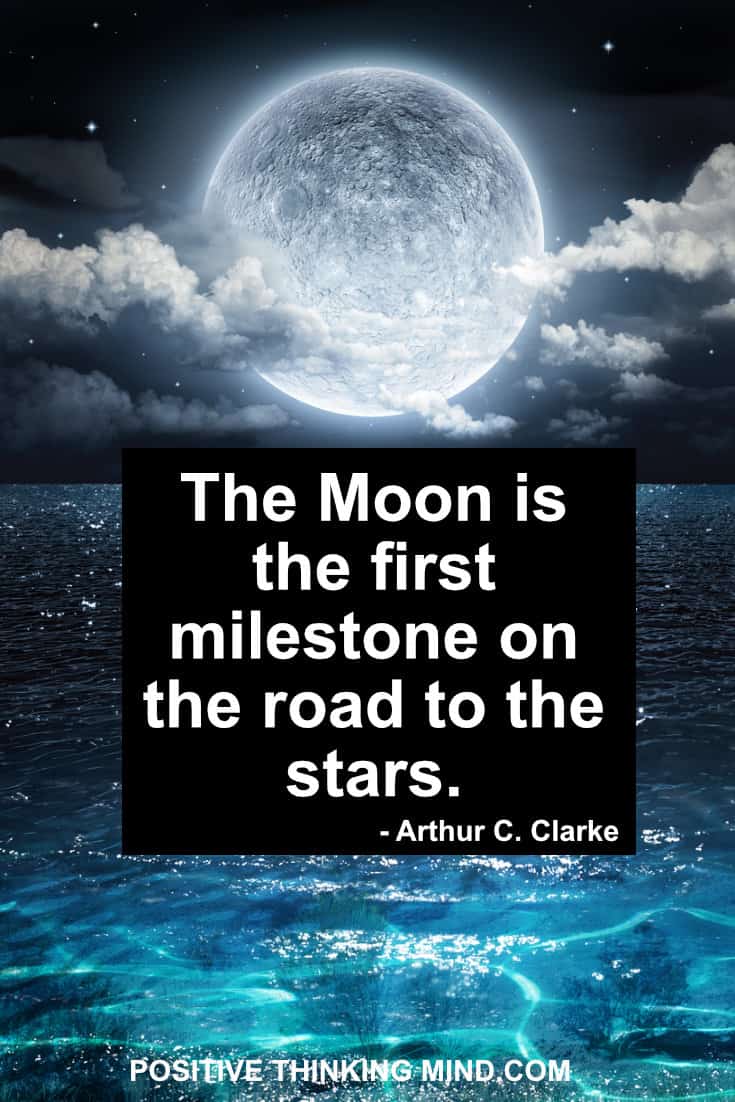 The Moon is the first milestone on the road to the stars.

Arthur C. Clarke
She has always been admired by the sun; For the way she rises each time after she falls. But the way she sparkles and glows whenever she talks about the things she adores; makes the moon and stars watch in envy.

Samiha Totanji
The moon is sun at your place splashing its rays below but it's the same art board we stare at!

Suyasha Subedi
The moon is queen of everything. She rules the oceans, rivers, rain. When I am asked whose tears these are; I always blame the moon.

Lucille Clifton
The moon is a silver pin-head vast, That holds the heaven's tent-hangings fast.

William R. Alger
I swear, the reason for full moons is so the gods can more clearly see the mischief they create.

Michael J. Sullivan
I'd rather live in a world where I get to love the moon than in one where I don't, even if the moon won't return the feeling.

Alex London
He could well imagine what the moon had given her: pure solitude and tranquility. That was the best thing the moon could give a person.

Haruki Murakami
Be like the moon in someone's sky and show her the way of life with your loving silvery lights during the darkness.

Debasish Mridha MD
The moon is a loyal companion. It never leaves. It's always there, watching, steadfast, knowing us in our light and dark moments, changing forever just as we do. Every day it's a different version of itself. Sometimes weak and wan, sometimes strong and full of light. The moon understands what it means to be human. Uncertain. Alone. Cratered by imperfections.

Tahereh Mafi
Smile like the moon to make life beautiful, because in your beautiful smile life finds meaning.

Debasish Mridha MD
Have you ever felt this feeling? When suddenly out of the blue someone walks right into your heart? And then you keep staring at the sky at night and keep asking the stars and the moon to help you figure this all out!

Avijeet Das
Moon Sayings
The moon fascinates us in her simplicity.

Avijeet Das
The Moon is the first milestone on the road to the stars.

Arthur C. Clarke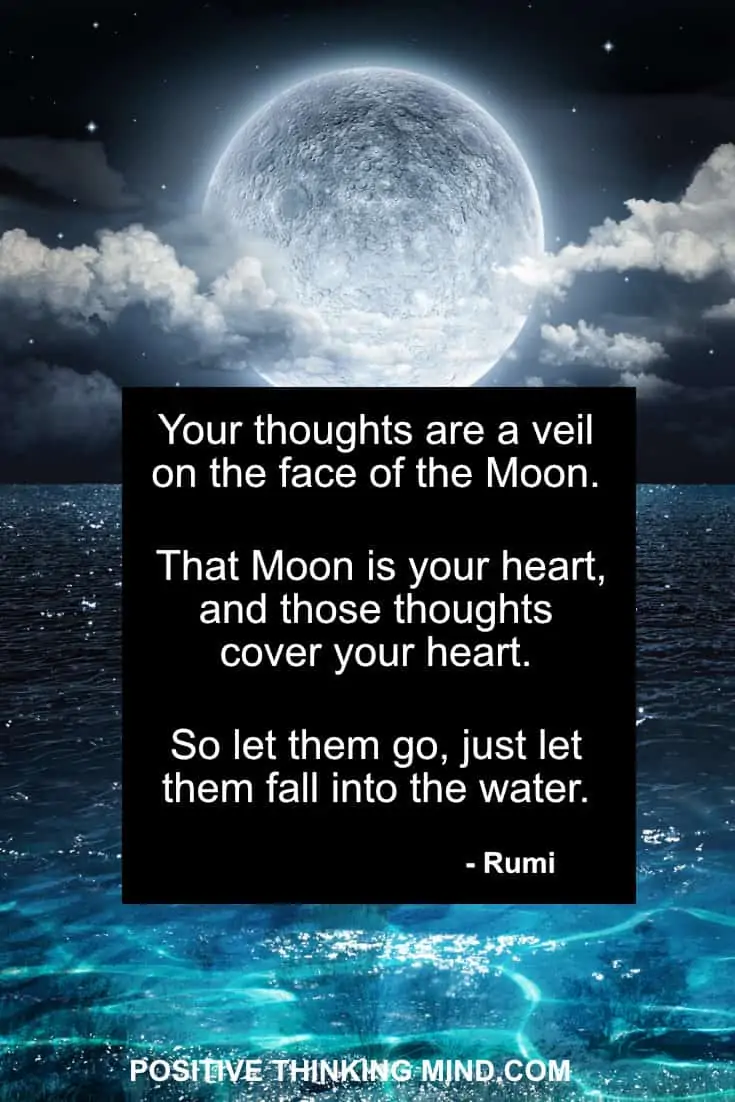 Your thoughts are a veil on the face of the Moon. That Moon is your heart, and those thoughts cover your heart. So let them go, just let them fall into the water."

Rumi
Tell me what you feel in your room when the full moon is shining in upon you and your lamp is dying out, and I will tell you how old you are, and I shall know if you are happy.

Henri Frederic Amiel
When I look at the moon I do not see a hostile, empty world. I see the radiant body where man has taken his first steps into a frontier that will never end.

David Scott
The moon, like a flower in heaven's high bower, With silent delight Sits and smiles on the night.

William Blake
There are nights when the wolves are silent and only the moon howls.

George Carlin
The moon puts on an elegant show, different every time in shape, colour and nuance.

Arthur Smith
When the storm is over and night falls and the moon is out in all its glory and all you're left with is the rhythm of the sea, of the waves, you know what God intended for the human race, you know what paradise is.

Harold Pinter
The wisdom of the Moon is greater than the wisdom of the Earth, because the Moon sees the universe better than the Earth can see it.

Mehmet Murat Ildan
When I admire the wonders of a sunset or the beauty of the moon, my soul expands in the worship of the creator.

Mahatma Gandhi
Quotes About The Moon
The lovely moon may not be able to breathe, but it takes our breath away with her incredible beauty and soft silvery love.

Debasish Mridha MD
I still say, 'Shoot for the moon; you might get there.

Buzz Aldrin
The faults of a superior person are like the sun and moon. They have their faults, and everyone sees them; they change and everyone looks up to them.

Confucius
It is a beautiful and delightful sight to behold the body of the Moon.

Galileo Galilei
You may have the dark and cold street life, ruled by the lessor light of the moon. During this time, I restore my temple, and later awake to greet the awesome radiance of the sun-star.

T.F. Hodge
The magic of autumn has seized the countryside; now that the sun isn't ripening anything it shines for the sake of the golden age; for the sake of Eden; to please the moon for all I know.

Elizabeth Coatsworth
When we are looking at the moon, we see the purest reflection of our own beauty and magic, which is why we love the moon so much.

Debasish Mridha MD
Inspirational Moon Quotes
I'm in no hurry: the sun and the moon aren't, either. Nobody goes faster than the legs they have. If where I want to go is far away, I'm not there in an instant.

Alberto Caeiro
The moon is the reflection of your heart and moonlight is the twinkle of your love.

Debasish Mridha
And at the end of the night, they realized how important those little stars were, which they ignored while adoring the beauty of the moon whole night.

Akshay Vasu
This is what I am talking about: the bewitching power of moonlight. Moonlight incites dark passions like a cold flame, making hearts burning with the intensity of phosphorus."

Rampo Edogawa
If you have a problem with the Moon in the sky and you are unhappy, change yourself, because the Moon won't change!

Mehmet Murat ildan
The moon looks upon many night flowers; the night flowers see but one moon.

Jean Ingelow
Don't tell me the moon is shining; show me the glint of light on broken glass."

Anton Chekhov
I like to think that the moon is there even if I am not looking at it.

Albert Einstein
Life is too short to not have fun; we are only here for a short time compared to the sun and the moon and all that.

Coolio
Moonlight drowns out all but the brightest stars.

J.R.R. Tolkien
The moon can never breathe, but it can take our breath away with the beauty of its cold, arid orb.

Munia Khan