Inspirational Quotes For People With Depression
Inspirational quotes for people with depression may be just what you need to regain control and let happiness fill you again. Depression is a challenging life experience, but you can get through it.
What also helped me was using positive thinking affirmations, which helped motivate me on bad days.
Many of us are familiar with the emotions and feelings of depression. You might isolate yourself from other people at times, unwilling to talk about your depression for fear of rejection or others not understanding.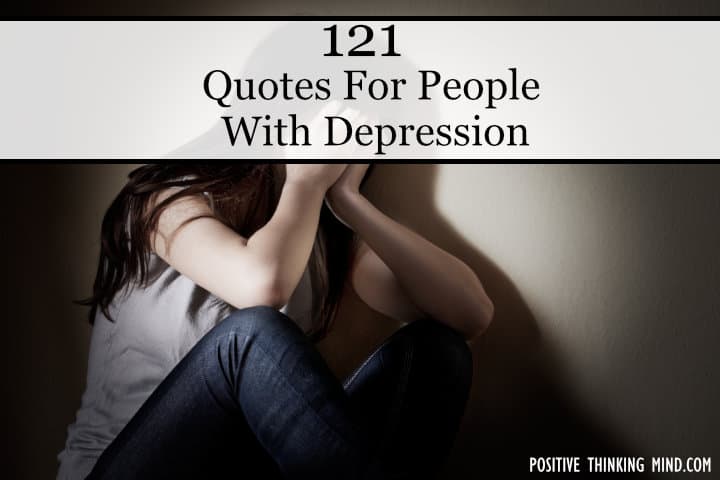 Isolating yourself from friends and family only feeds your depression and makes it worse, causing more negative thoughts to run through your head. Make it a point to go out and be social.
Related: Handling Your Negative Thoughts The Positive Way
If you need some more inspiration to help motivate you during your sad moments, please read my posts about:
If your struggling with your mental health, I suggest Online-Therapy or finding a therapist near you.
Symptoms Of Depression
Here are 9 signs of depression:
Hopeless outlook
Lost interest
Increased fatigue and sleep problems
Anxiety
Changes in appetite and weight
Uncontrollable emotions
Irritability (in men)
Suicidal ideation
Difficulty concentrating
Products We Recommend
Inspirational Quotes For Depression
It's hard to be a friend to someone who's depressed, but it is one of the kindest, noblest, and best things you will ever do.

Stephen Fry
There is hope, even when your brain tells you there isn't.

John Green
Getting better from depression demands a lifelong commitment. I've made that commitment for my life's sake and for the sake of those who love me.

Susan Polis Schutz
When you lose everything, you get depressed if you don't step back and start appreciating what you do have.

Paul and Tracey McManus, The 7 Great Prayers
Once you choose hope, anything is possible.

Christopher Reeve
Do not let what you cannot do interfere with what you can do.

John Wooden
A pearl is a beautiful thing that is produced by an injured life. It is the tear [that results] from the injury of the oyster. The treasure of our being in this world is also produced by an injured life. If we had not been wounded, if we had not been injured, then we will not produce the pearl.

Stephan Hoeller
Any fool can be happy. It takes a man with real heart to make beauty out of the stuff that makes us weep.

Clive Barker
Sometimes, life will kick you around, but sooner or later, you realize you're not just a survivor. You're a warrior, and you're stronger than anything life throws your way.

Brooke Davis

Positive Depression Quotes
A pearl is a beautiful thing that is produced by an injured life. It is the tear [that results] from the injury of the oyster. The treasure of our being in this world is also produced by an injured life. If we had not been wounded, if we had not been injured, then we will not produce the pearl.

Stephan Hoeller
We deal with disappointing and depressing experiences each day of our lives. Rest assured that these difficult times are your opportunity to grow and to learn more advanced strategies in order scale your next mountain more quickly.

Michelle C. Ustaszeski
Although the world is full of suffering, it is also full of the overcoming of it.

Helen Keller | Inspirations Quotes About Depression
Character cannot be developed in ease and quiet. Only through experience of trial and suffering can the soul be strengthened, ambition inspired, and success achieved.

Helen Keller
And if today all you did was hold yourself together, I'm proud of you.
I have endured pain and loss. I have felt broken. I have known hardship, and I have felt lost and alone. But here I stand, trying to move forward, one day at a time. I will remember the lessons in my life because they are making me who I am. Stronger. A warrior.
Regular exercise can really help you to reduce your stress levels, anxiety and depression. When you exercise your brain releases endorphins.

Heather Rose, Depression Cure
Man is fond of counting his troubles, but he does not count his joys. If he counted them up as he ought to, he would see that every lot has enough happiness provided for it.

Fyodor Dostoevsky
In the midst of winter, I finally learned that there was in me an invincible summer.

Albert Camus
Why do you want to shut out of your life any uneasiness, any misery, any depression, since after all, you don't know what work these conditions are doing inside you? Why do you want to persecute yourself with the question of where all this is coming from and where it is going. Since you know, after all, that you are in the midst of transitions and you wished for nothing so much as to change. If there is anything unhealthy in your reactions, just bear in mind that sickness is the means by which an organism frees itself from what is alien; so one must simply help it to be sick, to have its whole sickness and to break out with it, since that is the way it gets better.

Rainer Maria Rilke
Sometimes you climb out of bed in the morning and you think, I'm not going to make it, but you laugh inside – remembering all the times you've felt that way.

Charles Bukowski from "Gamblers All"
A positive attitude gives you power over your circumstances instead of your circumstances having power over you.

Joyce Meyer, Power Thoughts: 12 Strategies To Win the Battle of the Mind
The next time something goes "wrong," remind yourself that focusing on something that you're grateful for is a perfectly painless and side-effects free way to feel better immediately.

MK Mueller, 8 to Great
Helping With Depression Quotes
If you could only sense how important you are to the lives of those you meet; how important you can be to the people you may never even dream of. There is something of yourself that you leave at every meeting with another person.

Fred Rogers
You shall be free indeed when your days are not without a care nor your nights without want and a grief. But rather when these things girdle your life and yet you rise above them naked and unbound.

Khalil Gibran
I will love the light for it shows me the way, yet I will endure the darkness for it shows me the stars.

Og Mandino
There are moments when I wish I could roll back the clock and take all the sadness away, but I have the feeling that if I did, the joy would be gone as well.

Nicholas Sparks
Give yourself another day, another chance. You will find your courage eventually. Don't give up on yourself just yet.
Keep yourself busy if you want to avoid depression. For me, inactivity is the enemy.

Matt Lucas
Maybe you have to know the darkness before you can appreciate the light.

Madeleine L'Engle
Learning to identify the cyclical nature of the depression loop and to recognize your own depression cues…is crucial for uncovering happiness. …because knowing what triggers your own depression loop is a powerful first step toward being able to overcome depression. Having awareness gives you space to make choices.

Elisha Goldstein, Uncovering Happiness
Ring the bells that still can ring. Forget your perfect offering. There is a crack, a crack in everything. That's how the light gets in.

Leonard Cohen
Don't let life discourage you; everyone who got where he is had to begin where he was.

Richard L. Evans
In times of pain, when the future is too terrifying to contemplate and the past too painful to remember, I have learned to pay attention to right now. The precise moment I was in was always the only safe place for me.

Julia Cameron
Good humor is a tonic for mind and body. It is the best antidote for anxiety and depression. It is a business asset. It attracts and keeps friends. It lightens human burdens. It is the direct route to serenity and contentment.

Grenville Kleiser
Deep breathing is a great way of helping you to feel calmer.

Heather Rose, Depression Self Help
Surround yourself with loving, caring, happy people and get rid of the negative people that drag you down.

Heather Rose, Depression Cure
If you're going through Hell, keep going.

Winston Churchill
Victory is always possible for the person who refuses to stop fighting.

Napoleon Hill
Life isn't about waiting for the storm to pass, it's about learning how to dance in the rain.

Unknown
You become what you think about.

Earl Nightingale
When you are depressed, you need the love of other people, and yet depression fosters actions that destroy that love. Depressed people often stick pins into their own life rafts. The conscious mind can intervene. One is not helpless.

Andrew Solomon
Quotes For Depression
A positive attitude gives you power over your circumstances instead of your circumstances having power over you.

Joyce Meyer
There are far, far better things ahead than anything we leave behind.

C.S. Lewis
The greatest degree of inner tranquility comes from the development of love and compassion. The more we care for the happiness of others, the greater is our own sense of well-being.

Tenzin Gyatso
Antidote to depression is gratitude.
When you are feeling depressed or down, focus on many if the little things that we all take for granted. The ability to walk, to see, to hear, and even to talk are all things we take for granted.

Phillip Crone, The Secret of Success
A gem cannot be polished without friction, nor a man perfected without trials.

Chinese Proverb
When people don't know exactly what depression is, they can be judgmental.

Marion Cotillard
My scars remind me that I did indeed survive my deepest wounds. That in itself is an accomplishment. And they bring to mind something else, too. They remind me that the damage life has inflicted on me has, in many places, left me stronger and more resilient. What hurt me in the past has actually made me better equipped to face the present.

Steve Goodier
First, feel blessed for all you have, such as your kids, a home, a good job, food, water and all the basic necessities that some people do not have, and struggle every day to put their hands on.

Francoise White, The Little Toolbox for Anxiety
Twenty years from now you will be more disappointed by the things you didn't do, than by the ones you did. So throw off the bowlines. Sail away from the safe harbor. Catch the trade winds in your sails. Explore, Dream, Discover.

Mark Twain
Depression is the most unpleasant thing I have ever experienced. . . . It is that absence of being able to envisage that you will ever be cheerful again. The absence of hope. That very deadened feeling, which is so very different from feeling sad. Sad hurts but it's a healthy feeling. It is a necessary thing to feel. Depression is very different.

J.K. Rowling
You say you're 'depressed' – all I see is resilience. You are allowed to feel messed up and inside out. It doesn't mean you're defective – it just means you're human.

David Mitchell
Certainly, I think being depressed is absolutely part of the human condition, it has to be, if there's joy there's its opposite, and it's something you ride if you possibly can.

Bob Geldof
Truly, it is in the darkness that one finds the light, so when we are in sorrow, then this light is nearest of all to us.

Meister Eckhart
You don't have to live a lie. Living a lie will mess you up. It will send you into depression. It will warp your values.

Gilbert Baker
Listen to the people who love you. Believe that they are worth living for even when you don't believe it. Seek out the memories depression takes away and project them into the future. Be brave; be strong; take your pills. Exercise because it's good for you even if every step weighs a thousand pounds. Eat when food itself disgusts you. Reason with yourself when you have lost your reason.

Andrew Solomon
The great thing about keeping a journal is you can see how far that you have come or how far you still need to go. This can help with confidence and self-esteem when you see the kind of steps that you have made or are making.

Heather Rose, Depression Cure
The greatest discovery of my generation is that a human being can change his life by changing his attitude of mind.

William James
The pupil dilates in darkness and in the end finds light, just as the soul dilates in misfortune and in the end finds God.

Victor Hugo
Some days are just bad days, that's all. You have to experience sadness to know happiness, and I remind myself that not every day is going to be a good day, that's just the way it is!

Dita Von Teese
Inspirational Quotes On Depression
No matter how dark the moment, love and hope are always possible.

George Chakiris
Smooth seas do not make skillful sailors.

African Proverb
Faith is taking the first step even when you don't see the whole staircase.

Martin Luther King, Jr.
Positive thoughts and prayer have been the best means available, since the beginning of time, to transform darkness to light."

Cate Stevens
The soul is dyed the color of its thoughts. Think only on those things that are in line with your principles and can bear the light of day. The content of your character is your choice. Day by day, what you choose, what you think, and what you do is who you become. Your integrity is your destiny … it is the light that guides your way.

Heraclitus
When you adopt a positive mindset, you are harnessing the power of choice.

Victor Schueller
Even in the midst of devastation, something within us always points the way to freedom.

Sharon Salzberg
Courage does not always roar. Sometimes courage is the quiet voice at the end of the day saying, 'I will try again tomorrow.'

Mary Anne Radmacher
The best way out is always through.

Robert Frost
If all you can do is crawl, start crawling.

Rumi
Those who have a 'why' to live, can bear with almost any 'how'.

Viktor E. Frankl
When the feelings of sadness, anger, and depression appear, allow them to flow and allow yourself to express the emotion with the intention of not doing harm to others.

Molly McCord
Gratitude breeds optimism, enthusiasm, resilience, happiness, and overall satisfaction which can decrease anxiety and depression.

Beth Bunchman
Every man has his secret sorrows which the world knows not; and often times we call a man cold when he is only sad.

Henry Wadsworth Longfellow
Hope is important because it can make the present moment less difficult to bear. If we believe that tomorrow will be better, we can bear a hardship today.

Thich Nhat Hanh
Even if happiness forgets you a little bit, never completely forget about it.

Jacques Prevert
Even adverse situations can bring about positive teachings. Reflecting more on the things you've learned or gained makes you happier.

Jonathan Brown
We must accept finite disappointment, but we must never lose infinite hope.

Martin Luther King
The lotus is the most beautiful flower, whose petals open one by one. But it will only grow in the mud. In order to grow and gain wisdom, first you must have the mud — the obstacles of life and its suffering.

Goldie Hawn
Suffering has been stronger than all other teachings and has taught me to understand what your heart used to be. I have been bent and broken, but – I hope – into a better shape.

Charles Dickens
Those with a grateful mindset tend to see the message in the mess. And even though life may knock them down, the grateful find reasons, if even small ones, to get up.

Steve Maraboli
Inspirational Quotes For Someone With Depression
Tough times never last, but tough people do.

Robert H. Schuller
Noble deeds and hot baths are the best cures for depression.

Dodie Smith
Good humor is a tonic for mind and body. It is the best antidote for anxiety and depression. It is a business asset. It attracts and keeps friends. It lightens human burdens. It is the direct route to serenity and contentment.

Greenville Kleisser
You may have to fight a battle more than once to win it.

Margaret Thatcher
Obstacles don't have to stop you. If you run into a wall, don't turn around and give up. Figure out how to climb it, go through it, or work around it.

Michael Jordan
It is only in our darkest hours that we may discover the true strength of the brilliant light within ourselves that can never, ever, be dimmed.

Doe Zantamata
I have had to experience so much stupidity, so many vices, so much error, so much nausea, disillusionment, and sorrow, just in order to become a child again and begin anew. I had to experience despair, I had to sink to the greatest mental depths, to thoughts of suicide, in order to experience grace.

Hermann Hesse
A big part of being a well-adjusted person is accepting that you can't be good at everything.

Kelly Williams Brown
You may grow old and trembling in your anatomies, you may lie awake at night listening to the disorder of your veins, you may miss your only love, you may see the world about you devastated by evil lunatics, or know your honor trampled in the sewers of baser minds. There is only one thing for it then to learn. Learn why the world wags and what wags it. That is the only thing which the mind can never exhaust, never alienate, never be tortured by, never fear or distrust, and never dream of regretting. Learning is the only thing for you. Look what a lot of things there are to learn.

T.H. White
Never let your head hang down. Never give up and sit down and grieve. Find another way.

Leroy Satchel Paige
Overcome Depression Quotes
Depression is the most unpleasant thing I have ever experienced. . . . It is that absence of being able to envisage that you will ever be cheerful again. The absence of hope. That very deadened feeling, which is so very different from feeling sad. Sad hurts but it's a healthy feeling. It is a necessary thing to feel. Depression is very different.

J.K. Rowling
I learned there are troubles of more than one kind. Some come from ahead, others come from behind. But I've bought a big bat. I'm all ready, you see. Now my troubles are going to have trouble with me.

Dr. Seuss
The best way to get rid of the pain is to feel the pain. And when you feel the pain and go beyond it, you'll see there's a very intense love that is wanting to awaken itself.

Deepak Chopra
Depression taught me the importance of compassion and hard work, and that you can overcome enormous obstacles.

Rob Delaney
Prosperity is a great teacher; adversity is a greater. Possession pampers the mind; privation trains and strengthens it.

William Hazlitt
Out of your vulnerabilities will come your strength.

Sigmund Freud
For a seed to achieve its greatest expression, it must come completely undone. The shell cracks, its insides come out and everything changes. To someone who doesn't understand growth, it would look like complete destruction.

Cynthia Occelli
Beware trying to iron out all your quirks, perceived flaws, and doubts. It's often these things that help you find strength, compassion, empathy for others and heart.

Rasheed Ogunlaru
The power is in you. The answer is in you. And you are the answer to all your searches: you are the goal. You are the answer. It's never outside.

Eckhart Tolle
A journey of a thousand miles must begin with a single step.

Lao Tzu
Every morning is a fresh beginning. Every day is the world made new. Today is a new day. Today is my world made new. I have lived all my life up to this moment, to come to this day. This moment…this day…is as good as any moment in all eternity. I shall make of this day…each moment of this day…a heaven on earth. This is my day of opportunity.

Dan Custer
Find meaning. Distinguish melancholy from sadness. Go out for a walk. It doesn't have to be a romantic walk in the park, spring at its most spectacular moment, flowers and smells and outstanding poetical imagery smoothly transferring you into another world.

Albert Camus
Experiencing sadness and anger can make you feel more creative, and by being creative you can get beyond your pain or negativity.

Yoko Ono
Struggle and disappointment are necessary ingredients to success both in the present and in the future.

Britney Watkins
When you're depressed, the whole body is depressed, and it translates to the cellular level. The first objective is to get your energy up, and you can do it through play. It's one of the most powerful ways of breaking up hopelessness and bringing energy into the situation.

O. Carl Simonton
Famous Quotes About Depression
A feeling of being "out of control" of your time is the major source of stress, anxiety, and depression. The better you can organize and control the critical events of your life, the better you will feel, moment to moment, the more energy you will have, the better you will sleep, and the more you will get done.

Brian Tracy
You can make decisions like that about your life. If you are carrying strong feeling about something that happened in your past, they may hinder your ability to live in the present. You have to get rid of them.

Les Brown
In this sad world of ours sorrow comes to all and it often comes with bitter agony. Perfect relief is not possible except with time. You cannot now believe that you will ever feel better. But this is not true. You are sure to be happy again. Knowing this, truly believing it will make you less miserable now. I have had enough experience to make this statement

Abraham Lincoln
A good thing to remember is somebody's got it a lot worse than we do.

Joel Osteen
Happiness is a state of mind. It's just according to the way you look at things.

Walt Disney
When you do nothing you feel overwhelmed and powerless. But when you get involved you feel the sense of hope and accomplishment that comes from knowing you are working to make things better.

Maya Angelou
A positive thinker does not refuse to recognize the negative, he refuses to dwell on it.

Norman Vincent Peale
Wink at small faults; remember thou hast great ones.

Benjamin Franklin
A positive attitude gives you power over your circumstances instead of your circumstances having power over you.

Joyce Meyer
If you don't like something change it; if you can't change it, change the way you think about it.

Mary Engelbreit
I don't dwell in the past; I don't wallow in old events and emotions. I don't waste time on regret. No use going over and over the details of what already happened.

Yanni
Laughter yoga is a perfect way to laugh and get exercise at the same time. It approaches laughter as a body exercise so it's easy to laugh even if you're depressed or in a bad mood.

Oprah Winfrey
Ring the bells that still can ring. Forget your perfect offering. There is a crack, a crack in everything. That's how the light gets in.

Leonard Cohen
When one door closes, another opens. But we often look so regretfully upon the closed door that we don't see the one that has opened for us.

Alexander Graham Bell