19 Gifts For People With Depression (2021)
Depression can be a tough, unbearable time, but if you give one of these gifts for people with depression, you can help comfort them.
Coping with depression will involve much more than just receiving a gift, especially if your loved one suffers from depression more time than not. I recommend and use Online-Therapy to chat with a licensed therapist.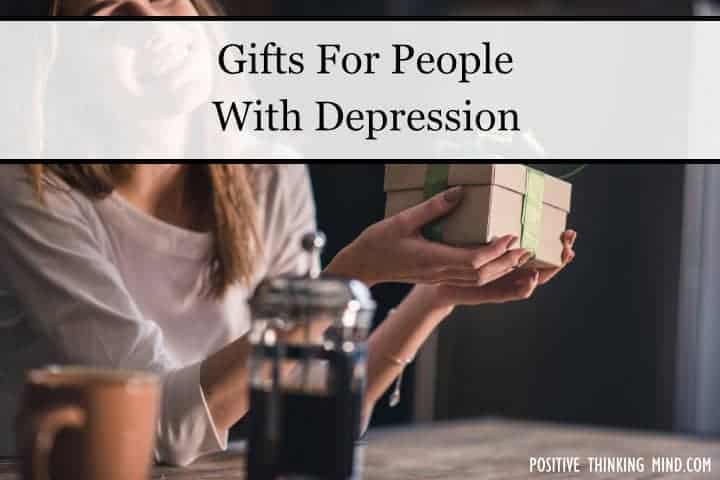 This post may contain affiliate links, you can read my disclosure policy.
Whether it is their birthday, a holiday, or want to give them a gift to cheer them up, our incredible gift guide will help you find what to buy someone with depression.
Weighted Blanket for Depression Relief
Weighted blankets can help comfort depression as well as relieve anxiety.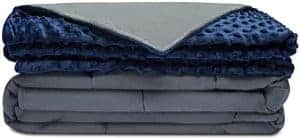 These comfy blankets are like regular blankets but have little pellets sewn inside to give the blanket its comforting weight.
When using the blanket, it feels like a warm hug or a gentle massage.
Typically it is recommended to use a weighted blanket about 10 percent of your total body weight for the best comfort.
Most weighted blankets come in different sizes, colors, and weights.
If it is to light, it will be like using a regular blanket, but if it is too heavy, it could be uncomfortable.
You can see my favorite premium blanket, or if you are on a budget, check out this weighted blanket.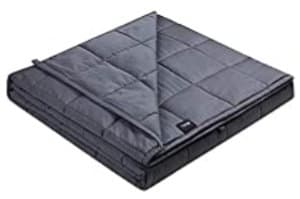 Beautiful Scented Candles For Depression
I love scented candles; they wake up your senses and soothe your depression. Watching the candle flicker about helps me take my mind off what is bringing me down.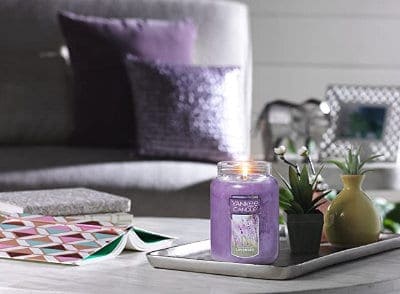 Scented candles are a great way to deliver aromatherapy, create a beautiful ambiance, and help you relax.
Some of my favorite and best scents to help relax and bring calm are lavender, chamomile, and creamy vanilla.
Himalayan Salt Candles or Salt Lamp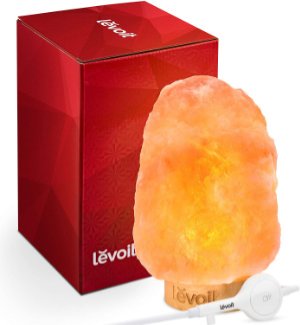 I have some Himalayan salt candles and a salt lamp that give a beautiful ambiance to my living room.
They are made of 100% Himalayan salt, uniquely hand-crafted, creating the perfect gift.
Light Therapy Lamp For Depression
A light therapy lamp is also known as a "happy light" that can help mimic natural sunlight, which allows our bodies to make the much-needed vitamin D.
In the winter, I mainly take vitamin supplements, which makes a massive difference in my mood. I'm not as depressed. Always talk to a doctor first about supplements.
Many psychiatrists and studies recommend light therapy, especially in winter months, as you don't get as much natural sunlight, for depression.
It's been shown to be an effective treatment for seasonal depression making this an easy gift for someone that suffers mostly in the dark months of winter.
Shop light therapy lamps here.
Essential Oil Diffuser
I use essential oils around the house and recently started using an essential oil diffuser.
The diffuser puts out mist-like steam of your favorite essential oils, giving your room or home a beautiful aroma.
This essential oil diffuser holds 400ml and can run for 13 hours.
It also comes with a rainbow of led lights, and you can change the amount of mist output and is a beautiful decoration.
Essential Oil Gift Set
You can use these essential oils alone or in the diffuser I wrote about above.
Aromatherapy helps you de-stress, feel more relaxed and unwind.
This particular set promotes happiness, optimism, harmony, energy, and concentration, the perfect gift for people with depression.
It includes 20 individual 10 mL bottle with my favorite scents lavender, peppermint, sandalwood, vanilla, chamomile, and tea tree.
Shop this essential oil gift set here.
Online therapy has come along way and is my top way to speak to a therapist. It's often more affordable than in-person treatment and comes with all sorts of perks.
Online-Therapy provides worksheets, live chat, messaging, journaling, yoga, an activity plan, and a qualified therapist to speak with.
This may be best for a family member or friend who you are close too. You could pay for a couple of months of therapy to help them if they struggle with their mental health.
Check out Online-Therapy today!
Therabox – Self Care Subscription Box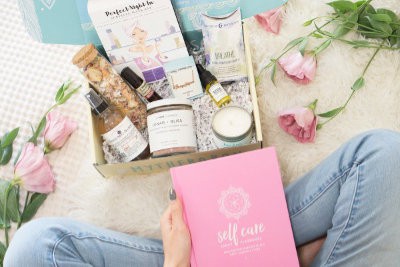 This therabox is a monthly subscription that is mental health-themed focuses on self-care and your happiness.
Each month a box of love is delivered in the mail and includes all kinds of cool, uplifting surprises like bath bombs, candles, mindfulness things, and aromatherapy.
This awesome little box has all the things to bring a little joy every month filled with happiness and positive vibes.
Shop this amazing Therabox gift set!
Books For Someone With Depression
Giving a book as a gift for someone with depression is a fantastic choice as you don't have to choose something directly related to depression.
Many funny books will lift someone's mood and specific self-help books where you can help yourself on your own time.
Here is a list of my favorite self-help books.
If you haven't noticed, most of these books are based on CBT or cognitive behavioral therapy. CBT is proven to help anxiety and depression by changing your thought patterns. Read my post: Cognitive Behavioral Therapy Exercises to learn more.
Journaling
If done regularly, journaling has many mental health benefits by helping you control your symptoms and improve your mood.
Journaling can help boost your immune system, helps keep your memory sharp, reduces stress, strengthens your emotional functions, and increases your mood.
By giving someone a journal, you are providing them an easy way to let out their emotions by putting them down on paper.
Therapy Dough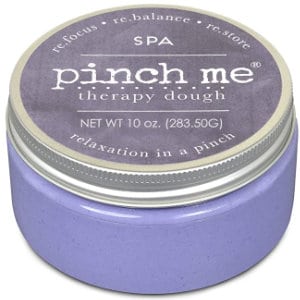 Do you remember playing with Play-Dough when you were younger? Now you can play with the adult version!
Pinch Me Therapy Dough relieves stress by pinching, squishing, squeezing, and smushing the dough.
It comes in different colors and scents. Cool! It reminds me of when I was younger.
Related Posts: