30 Bible Verses About Materialism
This collection of Bible verses about materialism is a helpful and great reminder that obsessing over material things gets in the way of what's truly important.
We all have material things, but it can become a problem when we become obsessed, like needing to have the latest and greatest phone, or watch, more money, or hoarding things.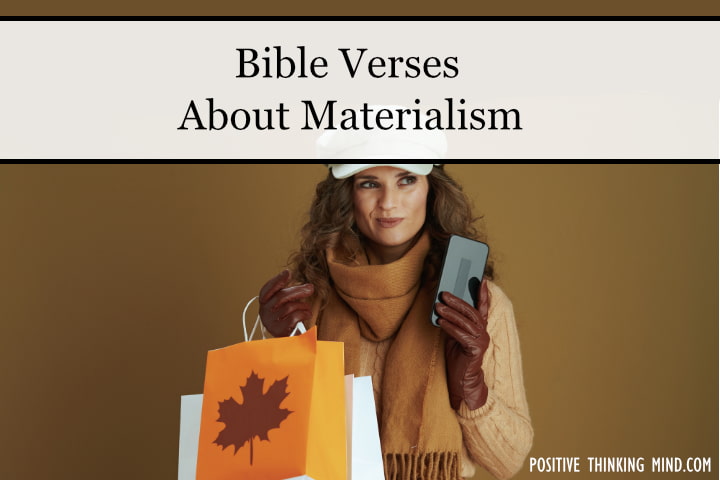 We can't take these "things" with us when we pass on, and it's more than likely that our heirs or next generation will think what we've accumulated is junk and toss it.
So I ask, what consumes your mind? Is it materialistic things?
If you've accumulated wealth, use it to help others in need.
Materials don't lead to happiness or contentment.
Following God leads to contentment and happiness.
Please enjoy this collection of bible verses about materialism to help you remember that things are just things.
Bible Verses About Materialism
Do not store up for yourselves treasures on earth, where moths and vermin destroy, and where thieves break in and steal. But store up for yourselves treasures in heaven, where moths and vermin do not destroy, and where thieves do not break in and steal.

Matthew 6:19-20
Those who want to get rich fall into temptation and a trap and into many foolish and harmful desires that plunge people into ruin and destruction.

1 Timothy 6:9
What good will it be for someone to gain the whole world, yet forfeit their soul? Or what can anyone give in exchange for their soul?

Matthew 16:26
And I saw that all toil and all achievement spring from one person's envy of another. This too is meaningless, a chasing after the wind.

Ecclesiastes 4:4
Cast but a glance at riches, and they are gone, for they will surely sprout wings and fly off to the sky like an eagle.

Proverbs 23:5
If anyone has material possessions and sees a brother or sister in need but has no pity on them, how can the love of God be in that person?

1 John 3:17
For all that is in the world—the desires of the flesh and the desires of the eyes and pride in possessions—is not from the Father but is from the world.

1 John 2:16
Now there is great gain in godliness with contentment, for we brought nothing into the world, and we cannot take anything out of the world. But if we have food and clothing, with these we will be content. But those who desire to be rich fall into temptation, into a snare, into many senseless and harmful desires that plunge people into ruin and destruction. For the love of money is a root of all kinds of evils. It is through this craving that some have wandered away from the faith and pierced themselves with many pangs.

1 Timothy 6:6-10
As for the rich in this present age, charge them not to be haughty, nor to set their hopes on the uncertainty of riches, but on God, who richly provides us with everything to enjoy. They are to do good, to be rich in good works, to be generous and ready to share, thus storing up treasure for themselves as a good foundation for the future, so that they may take hold of that which is truly life.

1 Timothy 6:17-19
Come now, you rich, weep and howl for the miseries that are coming upon you. Your riches have rotted and your garments are moth-eaten. Your gold and silver have corroded, and their corrosion will be evidence against you and will eat your flesh like fire. You have laid up treasure in the last days. Behold, the wages of the laborers who mowed your fields, which you kept back by fraud, are crying out against you, and the cries of the harvesters have reached the ears of the Lord of hosts. You have lived on the earth in luxury and in self-indulgence. You have fattened your hearts in a day of slaughter.

James 5:1-20
"Beware of practicing your righteousness before other people in order to be seen by them, for then you will have no reward from your Father who is in heaven. "Thus, when you give to the needy, sound no trumpet before you, as the hypocrites do in the synagogues and in the streets, that they may be praised by others. Truly, I say to you, they have received their reward. But when you give to the needy, do not let your left hand know what your right hand is doing, so that your giving may be in secret. And your Father who sees in secret will reward you. "And when you pray, you must not be like the hypocrites. For they love to stand and pray in the synagogues and at the street corners, that they may be seen by others. Truly, I say to you, they have received their reward.

Mathew 6:1
Neither their silver nor their gold shall be able to deliver them on the day of the wrath of the Lord. In the fire of his jealousy, all the earth shall be consumed; for a full and sudden end he will make of all the inhabitants of the earth.

Zephaniah 1:18
Command those who are rich in this present world not to be arrogant nor to put their hope in wealth, which is so uncertain, but to put their hope in God, who richly provides us with everything for our enjoyment.

1 Timothy 6:17
But those who desire to be rich fall into temptation, into a snare, into many senseless and harmful desires that plunge people into ruin and destruction. For the love of money is a root of all kinds of evils. It is through this craving that some have wandered away from the faith and pierced themselves with many pangs.

1 Timothy 6:9-10
Do not love the world or the things in the world. If anyone loves the world, the love of the Father is not in him. For all that is in the world—the desires of the flesh and the desires of the eyes and pride in possessions—is not from the Father but is from the world. And the world is passing away along with its desires, but whoever does the will of God abides forever.

1 John 2:15-17
For what will it profit a man if he gains the whole world and forfeits his soul? Or what shall a man give in return for his soul?

Matthew 16:26
How much better to get wisdom than gold! To get understanding is to be chosen rather than silver.

Proverbs 16:16
He also said to the disciples, "There was a rich man who had a manager, and charges were brought to him that this man was wasting his possessions. And he called him and said to him, 'What is this that I hear about you? Turn in the account of your management, for you can no longer be manager.' And the manager said to himself, 'What shall I do, since my master is taking the management away from me? I am not strong enough to dig, and I am ashamed to beg. I have decided what to do, so that when I am removed from management, people may receive me into their houses.' So, summoning his master's debtors one by one, he said to the first, 'How much do you owe my master?'

Luke 16:1-31
Whoever has a bountiful eye will be blessed, for he shares his bread with the poor.

Proverbs 22:9
A stingy man hastens after wealth and does not know that poverty will come upon him.

Proverbs 28:22
The Pharisees, who were lovers of money, heard all these things, and they ridiculed him. And he said to them, "You are those who justify yourselves before men, but God knows your hearts. For what is exalted among men is an abomination in the sight of God.

Luke 16:14-15
One person who has no other, either son or brother, yet there is no end to all his toil, and his eyes are never satisfied with riches, so that he never asks, "For whom am I toiling and depriving myself of pleasure?" This also is vanity and an unhappy business.

Ecclesiastes 4:8
An inheritance gained hastily in the beginning will not be blessed in the end.

Proverbs 20:21
But Peter said to him, "May your silver perish with you, because you thought you could obtain the gift of God with money!

Acts 8:20
So that the land could not support both of them dwelling together; for their possessions were so great that they could not dwell together.

Genesis 13:6
Whoever loves pleasure will be a poor man; he who loves wine and oil will not be rich. The wicked is a ransom for the righteous, and the traitor for the upright. It is better to live in a desert land than with a quarrelsome and fretful woman. Precious treasure and oil are in a wise man's dwelling, but a foolish man devours it. Whoever pursues righteousness and kindness will find life, righteousness, and honor.

Proverbs 21:17-24
Whoever loves money never has enough;
whoever loves wealth is never satisfied with their income.
This too is meaningless.

Ecclesiastes 5:10
Keep your lives free from the love of money and be content with what you have, because God has said, "Never will I leave you; never will I forsake you."

Hebrews 13:5
Everyone comes naked from their mother's womb,
and as everyone comes, so they depart.
They take nothing from their toil
that they can carry in their hands.

Ecclesiastes 5:15
A good name is more desirable than great riches;
to be esteemed is better than silver or gold.

Proverbs 22:1