30 Best Gifts For People With Anxiety
If you have a friend or family member with anxiety, you want to support them and show that you care about them. A great way to show you love them is by giving them the best gifts for people with anxiety you can.
Besides listening, being there for them, and caring for them, anxiety gifts are a great way to show them you care, and this gift will also be beneficial for their nerves.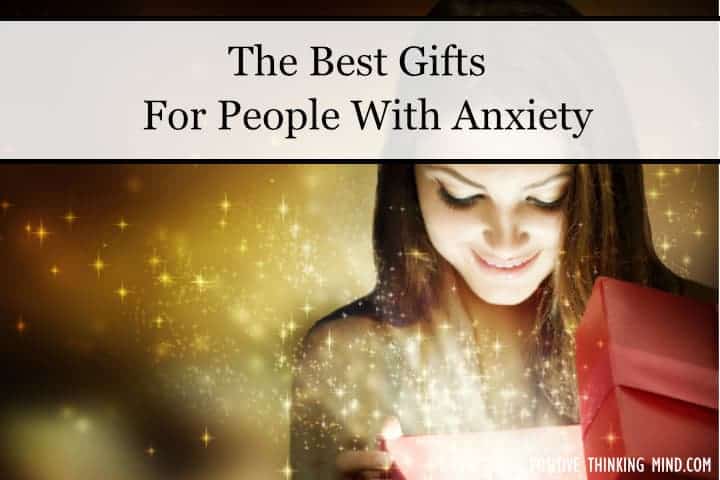 This post may contain affiliate links, you can read my disclosure policy.
Before choosing just any gift, think about the person first. Do they have likes or dislikes? What interests them? Take some time to think about what they would appreciate outside of their world of anxiety.
What Does Anxiety Feel Like?
I have personal experience with anxiety daily, social anxiety, generalized anxiety, and it feels like my insides are churning themselves over and over in my stomach.
Anxiety is an invisible mental disease, and it's exhausting. Though there is nothing wrong with me, it feels I can't breathe. I can't eat even though I am hungry.
Some people pinch their skin, can't sit still, and bite their nails.
For some, getting together for holidays or birthday parties can trigger anxiety. I have some of these cool gifts and love them, so I wanted to share the best gifts for people with anxiety.
These anxiety gifts will be well received because it will help them cope and de-stress.
Related Posts:
Here is our list of the best gifts for people with anxiety.
Weighted blankets are my absolute favorite type of blanket for sleeping or lounging around the house. These blankets relieve my anxiety, are comforting, help soothe my nerves and make great gifts for people with anxiety.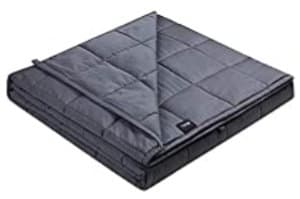 See my detailed post about Weighted Blankets for anxiety.
You can't tell the difference between these blankets and a standard blanket, but you will feel the difference. These usually have sewn weighted pellets or glass beads inside, which comfort you like a hug.
Shop my personal favorite weighted blankets here.
This home spa set is the perfect gift for someone with anxiety.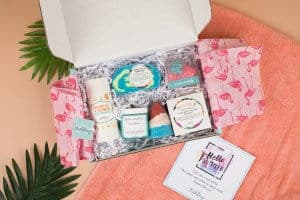 They go above and beyond and give you so many fantastic bath products like bath salts, bath bombs, bubble bars, bath scrubs, candles to set the mood, and so much more.
Every month, I like how they switch it up and have a different exciting theme – the absolute perfect gift!
Shop the best bath gift set here!
Mindfulness and meditation help relieve stress and anxiety, and each of these cards contains an inspirational phrase or quote, helping you stay inspired and mindful.

These mindfulness cards also have some exercises you can follow to help relieve stress and deal with your anxiety.
These powerful techniques can be easily and quickly memorized and used in any situation.
Health care professionals recommend these cards as safe and reliable self-help solutions for anxiety relief and stress management.
Shop for Mindfulness Cards on amazon!
This book is the perfect gift for someone with anxiety and will help with anxious feelings, panic attacks, and intrusive thoughts.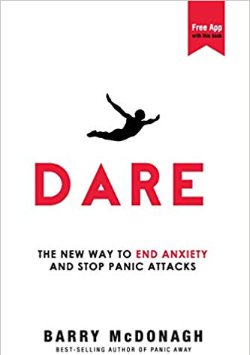 The author Barry is personable and talks to you like a human being and not another patient or lab rat.
Along with the DARE book, you also get apps, coaching, mindfulness meditations, and much more.
Just a few minutes in the microwave will bring your anxious friend 30+ minutes of comfort.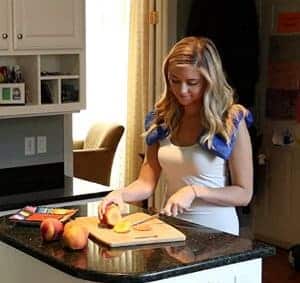 This heating pad is designed to precisely wrap around your neck, shoulders, and upper back and delivers deep, penetrating, moist heat to the neck and shoulders, relieving pain, tension, and stress.
Made of plush polyester fabric and filled with flaxseeds, wheat, lavender, chamomile, peppermint, spearmint, lemongrass, rosemary, cinnamon, yarrow, white willow, valerian root, yellow dock, and hops.
May also be chilled in the freezer and used as a cold pack for a refreshing, relaxed experience.
It makes an excellent gift for someone with anxiety!
Shop for microwaveable heating pads on Amazon!
As I mentioned earlier, I have anxiety, and I love this essential oil diffuser.

This diffuser can run up to 13 hours continuously because it holds a generous 400ml. The diffuser also comes with a timer that I like, and you can set it for one, three, or six hours.
Another nice touch is the available lighting. Choose one of seven colors or a rainbow of all colors, which is a nice touch.
You can change the brightness of the led lights, put it on carousel mode or variable mist output.
Check out my favorite essential oil diffuser!
The scent of this candle is refreshing, relaxing, soothing, and luxurious.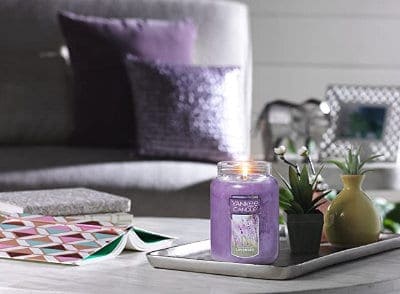 The candle helps me relax when I'm home after a long day. Whether I'm in my living room or a bath, it calms me down, helping me de-stress.
This candle will last about 150 hours, the wick is made of 100% natural fiber cotton for a clean burn and provides a consistent room-filling aroma.
Shop these beautiful smelling candles here.
Another favorite of mine for calming anxiety is this lavender and thyme-scented candle.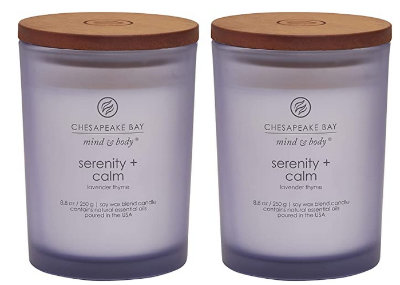 The scent provides a "serenity and calm" and relaxes me, and I forget all the day's troubles.
Made from all-natural soy wax and enhanced with essential oils along with self-trimming wicks.
Shop Lavender and Thyme scented candles!
The Therabox is mindfully curated by therapists to reduce stress & increase joy through self-love.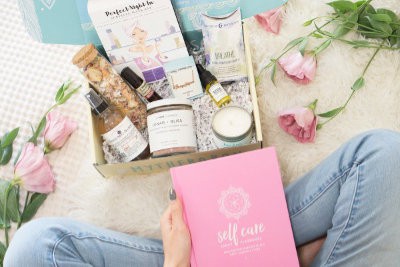 Each month comes full-size products ranging from beauty, lifestyle, aromatherapy, and mindfulness things.
It's got all the essentials to help you relax and get your mind flowing with positive vibes.
When this arrives at your doorstep, a smile will come over your face. Thoughtfully put together by a therapist, and usually includes a therapy activity book.
A highly recommend self-care box, the perfect gift for someone with anxiety.
Shop this beautifully made gift set!
If your loved one has anxiety or social anxiety and likes to read, this book will be perfect for them.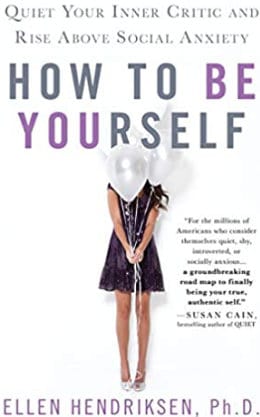 "How To Be Yourself" is written in an engaging and readable style, while giving step by step advice based on documented psychological research.
Dr. Hendriksen takes a gentle but authoritative approach, never condescending, and uses actual clients who make the book relatable and honest.
Anyone dealing with social anxiety will love this book. There are stories tied to socially anxious traits to understand better how they manifest.
One of my favorite gifts to give to people with anxiety are noise-canceling headphones.
They can listen to music without hearing all the outside interruptions and can relax and have fun.
It also doesn't say to them, "you have anxiety, and I'm trying to fix you."
Shop Noise Canceling headphones on Amazon.
Online therapy has come along way and is my top way to speak to a therapist. It's often more affordable than in-person treatment and comes with all sorts of perks.
Online-Therapy provides worksheets, live chat, messaging, journaling, yoga, an activity plan, and a qualified therapist to speak with.
This may be best for a family member or friend who you are close too. You could pay for a couple of months of therapy to help them if they struggle with their mental health.
Check out Online-Therapy today!
Relieve stress, increase mindfulness, and discover calm and clarity wherever you go with this beautiful guided journal.
Shop The Anxiety Journal here.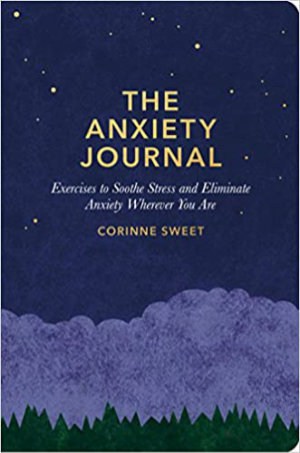 This deck provides you with 56 useful and effective anti-anxiety strategies to help you relax. Based on cognitive therapy, mindfulness, relaxation, and behavioral therapy, each card will help you melt worry and anxiety quickly.

These make a fantastic gift and are useful in curbing your worrisome thoughts too!
The relaxing cards work particularly well and include instructions and reminders that you can do in your office, in the elevator at work, or even before important meetings.
Shop this great gift idea for anxiety!
Studies show an anxiety reduction by drinking matcha green tea.
Matcha made from the leaves of the Camellia Sinensis plant, which are grown in the shade to keep caffeine content low and Theanine one of the amino acids in the leaves high.
Theanine reduces anxiety and stress buy increasing dopamine and serotonin levels.
Buy this excellent gift idea today!
Gift A Cool T-Shirt
You could buy them a cool shirt with a silly saying on it. It'll give you both a good laugh and makes excellent gifts for people with anxiety.
Helping to increase their self-confidence is a great gift idea. Most people appreciate you helping to increase their self-esteem and be a better person.
The Self Confidence Workbook offers practical, accessible strategies to get to know your best self and see real-world results.
What better than a calming bath with your favorite lavender scent. Lavender is a very relaxing scent and naturally calms the body.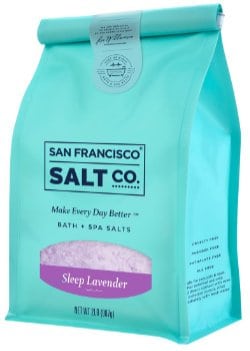 These bath salts will help you relax and unwind, helping to promote a restful night's sleep free of anxiety.
The salts help soften skin and soothe muscle aches and pains too.
Shop these luxurious bath salts here.
Yoga is a great way to de-stress, relax, and also build body strength. There are many free videos on YouTube for instruction and classes to help you do yoga.
Related: Yoga exercises for anxiety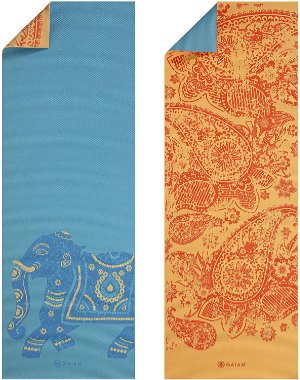 This yoga mat is 68 inches by 24 inches and 5mm thick with an assortment of different patterns and choices. The mat also comes with an online library of helpful videos.
This white noise machine will set the perfect mood for sleep and relaxation, drowning out all other sounds that would keep you awake.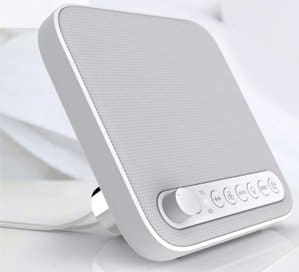 Includes six different high fidelity sound settings giving you an escape into a peaceful environment.
Six sounds include white noise, ocean, summer night, stream, fan, and rain.
Shop this fantastic white noise machine here.
Made from 100% salt from the Himalayan mountains, a perfect gift for anyone.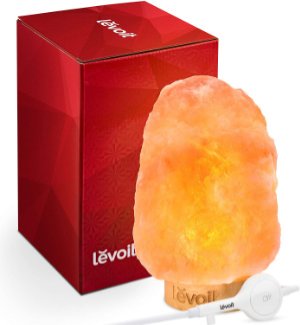 This salt lamp is an excellent addition to any room, adding a calming effect.
Complete with a dimmer, night light, and two extra bulbs with a rubberwood base.
Shop this beautiful Himalayan Salt Lamp here.
This gift item has a beautiful mixture of lavender and chamomile, promoting calm and relaxation, helping you fall asleep.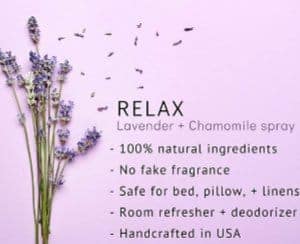 Lavender and chamomile aromatherapy blend reduces anxiety and emotional stress. Lavender has been known to improve mood and calm an overactive mind.
Shop this premium aromatherapy mist gift set here.
Functional and relaxing this bath bomb set makes a great gift for people with anxiety.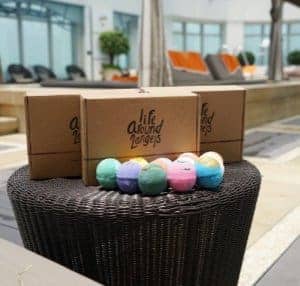 All USA ingredients uniquely crafted aroma for relaxation with non-toxic ingredients and include twelve amazing scents like:
Angel, Black raspberry vanilla, Fun in the Shower, Fun on the Beach, Kiwi & Strawberry, Lavender, Lemongrass green tea, Love, Mango Papaya, Melon ball, Shea & Coconut, and Victorian rose.
This miniature Japanese meditation garden will help you channel your inner zen and bring relaxation to your day.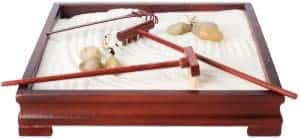 Beautifully handcrafted 9-inch by 9-inch rosewood will fit perfectly on your desk or coffee table.
Included is a 64-page meditation booklet with useful instructions and suggestions for shaping your garden.
Get this excellent gift idea Zen Garden here.
Replace your giftee's fidget spinner with a fidget cube, the ultimate gift for anti-anxiety, and stress relief from school or work.
It helps avoid nervous nail-biting, knuckle cracking, leg shaking, and other fidgeting habits.
Based on therapeutic evidence allowing you to work in the comfort of your own home, anxiety workbooks, using cognitive behavioral therapy exercises for anxiety help you build core therapeutic skills.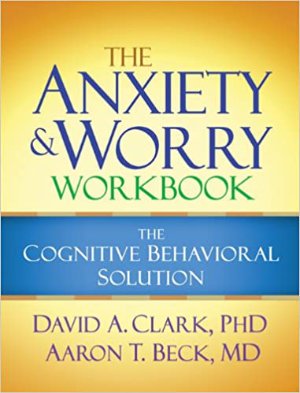 If you are gifting the anxiety journal, this anxiety workbook goes perfectly together.
CBT is the proven treatment approach developed and tested for over 25 years and can provide lasting relief from out of control anxiety.
A coloring book is an ideal gift for people with anxiety because they have stress relieving designs such as animals, mandalas, flowers, paisley patterns, and so much more.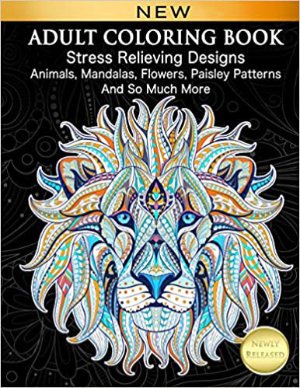 Coloring encourages mindfulness allowing us to switch off unnecessary outside thoughts and focus on the moment.
There are many mindfulness activities for anxiety, and coloring directs our attention away from ourselves and on to the present moment.
Shop Adult Coloring books here.
Meditation App Subscription
If your friend has anxiety, a meditation app subscription could be the perfect gift for them.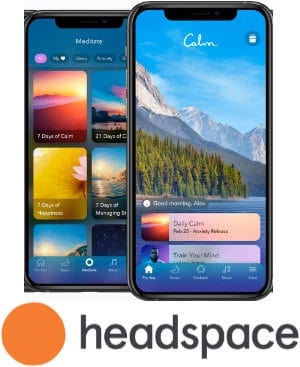 Getting started and sticking with meditation is the hard part; once you find your groove and continue practicing meditation, the benefits are enormous.
Two apps I like and recommend are Headspace and Calm. Both provide meditation and mindfulness audio.
I love giving this stress ball gift for someone with anxiety as it helps distract their thoughts and release tension and irritability.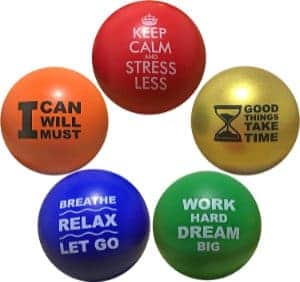 These stress balls also have cool motivational sayings on them and come in five different colors.
The perfect gift for anyone.
Shop these stress balls for an excellent gift here.
Incense And Holder
One of my favorite incense burners because you can use cones or sticks.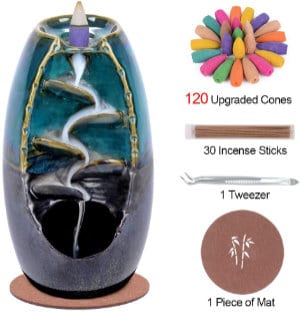 When I have a high anxiety moment, I burn one of my favorite scents, which is lavender or apple.
Gift your friend with incense and a holder, so they have everything they need.

Everyone loves chocolate, especially an assortment such as creme brulee, tiramisu, meringue, chocolate brownie… Mmmm, I'm getting hungry.
Shop this tasty assorted gift box here.
I hope you found a great gift for your loved one, you really can't go wrong with one of these gifts for someone with anxiety.
Let me know of any other anxiety gifts that you think should be on the list!
Don't forget to pin this post!