So what exactly do you get for grandpa when the man practically has everything? Our unique gift for grandpa guide will help you find the perfect gift to make your life easier.
Maybe something simple like a coffee mug or a funny t-shirt. You'll find some cool gadgets, fun subscriptions, practical and sentimental gifts that he's sure to love.
Related Post: 30 Gifts for someone with Anxiety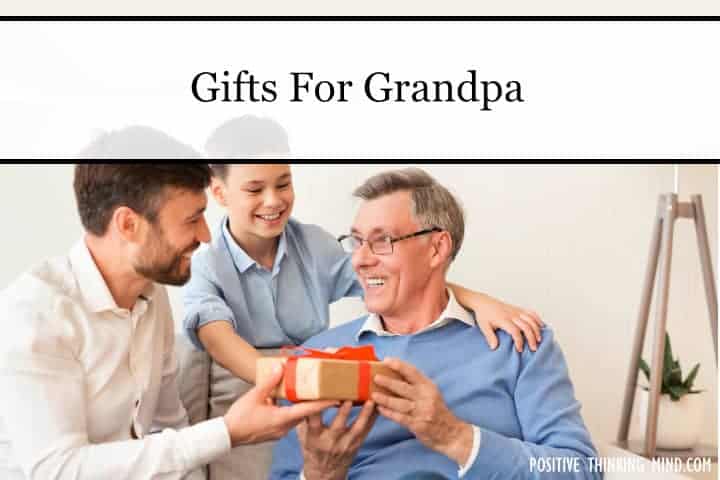 This post may contain affiliate links, which means I receive a commission if you choose to purchase through links I provide (at not extra cost to you). Please see my disclosure policy here.
1. Life Story Picture Frame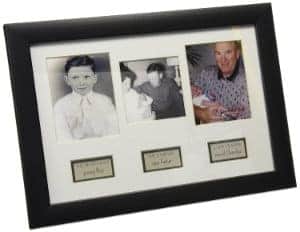 What We Like
8 x 12 Frame
Optional engravable plaque
Quality frame
A beautiful family keepsake perfect for Grandpa. This picture frame tells Grandpa's life story and is a memorable gift and conversation piece.
The frame is 8 x 12 in classic black and features three spaces for your photos and three areas for captions below the picture. Optionally you can include an engravable plaque.
2. Isotoner Gel Infused Memory Foam Moccasin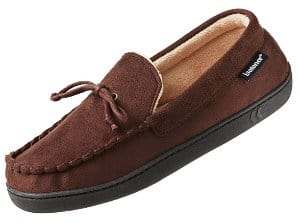 What We Like
Gel Infused for cool feet
Comfortable memory foam
Durable soles
Multiple colors to choose from
Grandpa needs to be comfortable, and he'll love these comfy slippers. These slippers are cool, comfortable, and versatile.
The gel-infused memory foam regulates your foot temperature as it molds to your unique foot shape providing long-lasting comfort. Made with durable soles, Grandpa can wear these for a quick trip to the mailbox or the store.
3. Audible – Always Time For A Good Story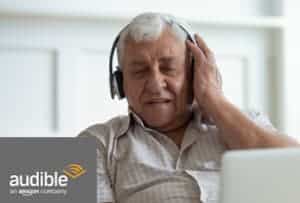 What We Like
Thousands of audio books to choose from
Tons of podcasts
Grandpa loves reading but his eyes are getting the best of him. Help him by giving the gift of books on tape, or well, streamable books by Audible.
He'll love listening to his favorite books and podcasts with his smartphone or tablet.
4. Screen Magnifier For Smart Phone
Grandpa loves his smartphone looking at his precious family photos or watching videos. But the screen is small and visual fatigue and discomfort can be a pain.
Not anymore, now Grandpa can watch his favorite videos on a screen that's double the size! It's lightweight, doesn't require batteries, works similar to a projector, and's also foldable—the perfect gift for grandpa.
5. Warm Weighted Blanket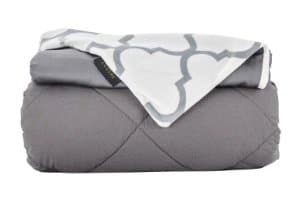 What We Like
Warm and cozy
Can choose different weight
Quality cotton
Multiple sizes
Grandpa usually sleeps in his chair, and a comfy weighted blanket would keep him warm. Our favorite blanket is the Luxome Weighted Blanket. This cozy blanket is the perfect gift for grandpa as he sits in his favorite chair watching his shows or dozing off.
For a less pricey option, our second favorite is the YnM weighted blanket on Amazon. It comes in all sorts of colors, features premium glass beads for weight, and is made of heavy oeko-tex certified cotton.
6. Customized Face Socks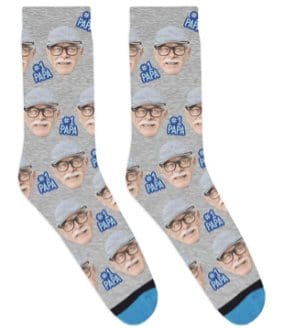 Super cute and comfortable face socks make the perfect gift for grandpa. He'll be keeping up with the hippest fad in town.
Upload a picture of his favorite grandkid so he can stare and adore them all day long.
7. Grandpa Knows Everything 20oz Tumbler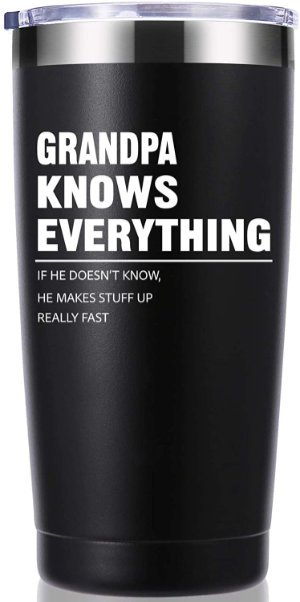 This 20oz tumbler travel mug is one of our favorite best grandpa gifts. The tumbler is made of stainless steel; it's double-walled to keep drinks hot or cold for hours.
You can get the travel mug in black, stainless steel, or navy blue color. We love the saying on the face of the mug: Grandpa Know Everything – If he doesn't know, he makes stuff up really fast. Super-Cute!
8. Folding Chair
Grandpa will love this extra wide chair, which features a light-weight aluminum frame, a fold-out side table, a padded seat, and armrests.
The chair also has two insulated beverage pockets and hanging side pockets for books or magazines. Whether Grandpa is watching the grandkids play, enjoying his backyard, he's sure to love this foldable chair.
9. Neck Massager With Heat
Who would say no to a great neck massage with heat? Grandpa is sure to love his gift where he can relax and unwind with a massage. With three speeds, eight different deep kneading Shiatsu massage nodes to relieve his tired aching muscles.
Perfect ergonomic U-design and built in advanced heat which transfers warmth to muscles
10. Grampa's Personalized Weeder
The original weeder that has been pulling weeds and their roots for over one hundred years! Grampa's weeder has an extra-long 45″ handle to save on tiring out your back and knees.
It helps control weeds without harmful chemicals, making the lawn and garden safe for the grandkids. The number one best selling weeder is the most effective weed remover made.