27 Inspirational Speeches To Empower A Successful Life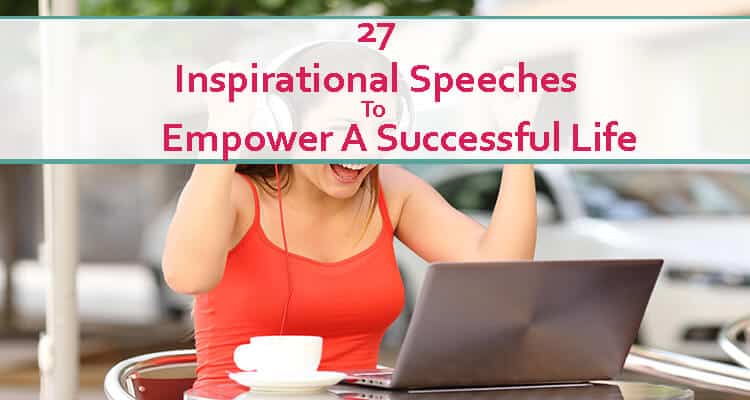 What can an Inspirational Speech do?  You ask…..  Well, some of the most amazing and best inspirational speeches I enjoy can inspire us to take action and do something.  An inspirational speech can change our lives, help us to realize we're not worthless and help us grow to be a better person.
I've compiled this list and it includes Steve Jobs, Barack Obama, Ashton Kutcher, Tony Robbins and so many more.  These are the best inspirational speeches that have helped me become inspired and motivated to take action by changing my life and take action for success.
Inspirational Speeches Help Us To Be More Successful
From TED Talks (my favorite speeches) to historical speeches such as Martin Luther King Jr. all the way to some of the most powerful speeches from Presidents speaking to students graduating, can help us be successful in our daily lives.
What Can I Learn?
I love Inspirational Speeches that encourage me and lift me up.  Most speeches will make us happier, teach us to be more efficient and successful at our jobs.  Some things we will learn is to never settle, to not fear failure and to keep moving forward. We are part of a greater existence, to not sweat the small stuff because life is always changing.


You can learn to overcome great challenges in your life and you can beat the odds if you just take action.
Definition Of Inspiration
"[t]he process of being mentally stimulated to do or feel something, especially to do something creative." – Oxford Dictionary
1. Steve Jobs Commencement Address
Steve Jobs co-founder of Apple was one of the "most revolutionary voices in technology" of our time.  He created the Iphone and re-defined the mobile phone space.  Jobs was diagnosed with cancer and points out "our time here is limited" and to make the best of our lives and make a difference.  Steve was a brilliant man and always gave the best inspirational speeches.
2.  Admiral William H. McRaven Commencement Address
Admiral McRaven gave a great inspirational speech at the University of Texas and gave 10 great points on how to live life intentionally and they are:
1. Make your bed 2. Find someone to paddle with you 3. Measure a person by the size of their heart, not their flippers 4. Get over being a sugar cookie and keep moving forward 5. Don't be afraid of the circuses 6. Sometimes you have to slide down obstacles head first 7. Don't back down from the sharks 8. You must be your very best in the darkest moments 9. Start singing when you're up to your neck in mud. 10. Don't ever, ever ring the bell
3.  Tony Robbins
One of the Best Motivational Speakers of our time is Tony Robbins and is the nations #1 Life and Business Strategist.  Tony discusses the "invisible forces"  that motivate our actions.  This was part of the first 6 TED talks and is now one of the most viewed TED talks of all time.  Truly the best inspirational speech.
4.  J.K Rowling Harvard Commencement Speech
J.K Rowling the ninth best selling fiction author and writer of  Harry Potter gave an amazing speech at Harvard.  Rowling has a rare talent for making people laugh and think at the same time and shares in her speech things she wishes she had known at her graduation and what she's learned in her life from that point.
Rowling delivers some great life lessons on never giving up.  Her famous book Harry Potter was turned down by multiple publishers (who I'm sure are regretting their decision now) but she kept pursuing her dream and finally her efforts paid off.
5.   Bill Gates Harvard Address
Bill Gates the co founder of Microsoft went to Harvard but never actually graduated.  Gates is Harvard's most successful drop out and says "I've been waiting more than 30 years to say this: 'Dad, I always told you I'd come back and get my degree."  Bill Gates is an inspiration and notes that education is important but also getting to know the world around you is important.  I believe this is one his best inspirational speeches.
6.  Jim Carrey Inspirational Speech at Maharishi University
Jim Carrey's best Inspirational Speech at Maharishi University talks about giving it your all and doing what you want to do in your life.  Carrey's father wanted to be a comedian but decided to play it safe and become an accountant.  Later being layed off and ending up poor in the end, Carrey builds off this story saying you can still fail "playing it safe".
7.  Ellen DeGeneres Commencement Speech
Television Show Host Ellen DeGeneres gave her speech at Tulane University and as always was humorous and included personal stories from her life pursuing her career in comedy.  DeGeneres touches bases on "being true to yourself and overcoming adversity" and over One Million people have viewed Ellen and it's one of the best inspirational speeches ever.
8.  Dan Pink: The Puzzle Of Motivation
Dan Pink a career analyst speaks about the "Puzzle of Motivation" and focuses on autonomy  – the desire to grow our own lives and introduces the "Candle Problem".
9. William Wallace (Mel Gibson) Speech From the Battle of Stirling Bridge
Sir William Wallace a Scottish Knight was one of the main leaders during the fight between the English and Scotland seeking Independence.  Wallace defeated and English army in September 1297.   Mel Gibson in Braveheart portrays William Wallace and gives a great and one of the best inspirational speech before going to battle.
10.  Kal Penn at DePauw University
Kal Penn a former White House official and actor tells graduates "Contrary to what TV sells us, fame is not a profession. Be careful not to confuse fame and status and money with actual things that actually matter — like happiness and humanity and kindness" in his inspirational speech.  Penn advises graduates to focus on their dreams and strive for success but to not forget about what really matters in life such as loved ones, being selfless and also adventurous.
11.  Will Smith in The Pursuit Of Happyness
In the movie "Pursuit of Happyness" Chris Gardner (Will Smith) is a single father who gets evicted from his apartment and finds himself alone (with his son) and no place to go.  He struggles through having to live in shelters and endures many hardships.  Chris Gardners inspirational speech to his son is truly breath taking.  One of the best sayings in this speech is:
"Don't ever let somebody tell you … you can't do something.  Not even me.  All right?  You got a dream.  You gotta protect it.  People can't do something themselves, they want to tell you can't do it.  If you want something, go get it. Period."
12. Rocky Balboa Inspirational Speech
I love the Rocky movies and the inspirational speech that was given to Balboa's son by him.


"Let me tell you something you already know. The world ain't all sunshine and rainbows. It's a very mean and nasty place and I don't care how tough you are, it will beat you to your knees and keep you there permanently if you let it. You, me, or nobody is gonna hit as hard as life. But it ain't about how hard ya hit. It's about how hard you can get it and keep moving forward. How much you can take and keep moving forward. That's how winning is done!
Now if you know what you're worth then go out and get what you're worth. But ya gotta be willing to take the hits, and not pointing fingers saying you ain't where you wanna be because of him, or her, or anybody! Cowards do that and that ain't you! You're better than that!"
13.  Sheryl Sandberg Facebook COO Delivers and Inspirational Speech
COO of Facebook Sheryl Sandberg deliveres the best inspirational speeches to the class of 2012 at HBS.
14.  Oprah Winfrey Harvard Commencement Speech
Oprah Winfrey a very successful talk show host and inspiration to many gave her speech to Harvard's graduates.  My favorite line in her inspirational speech was "I was here to use television, and not be used by it."
15.  Jack Ma Greatest Success Story Speech
Chinese Entrepreneur and billionaire Jack Ma created and founded the company Alibaba.  Jack Ma struggled throughout his life, trying to get jobs, go to school and was rejected many times.  He kept going forward looking to the future with a positive mind.  Where so many people give up after 1 or 2 rejections, he didn't give up and became one of the most successful people in the world.  Truly one of the best inspirational speeches ever.
16.  Kurt Russell "This Is Your Time"
In the move "The Miracle" the inspirational speech was given to the 1980 Olympic Team who was getting to go up against the Soviet Union.
17.  Mel Gibson Inspirational Speech
18.  Al Pacino Best Inspirational Speech
One of the best speeches I've ever seen and most inspiring speeches ever given, especially when he starts out with "I really don't know what to say".   His speech is about winning and overcoming obstacles in our lives.
19.  Michelle Obama at Eastern Kentucky University
Michelle Obama's inspirational speech is amazing and talks about our conversations with each other.  How we need to speak to each other with an open mind, we're all different, race, religion, political stand, we can all learn from each other.
20.  Bono at University of Pennsylvania
Bono the lead singer from U2 opens his speech with, "My name is Bono, and I'm a Rock Star".   In Bono's speech he says, "What are you willing to spend your moral capital, your intellectual capital, your cash,  your sweat equity in pursuing outside of the walls of the University of Pennsylvania? The world is more malleable than you think and it's waiting for you to hammer it into shape."  Bono is an inspiring rock star and two US Presidents, Bush and Clinton have said upon meeting him that Bono is a very intelligent man.
21.  Barack Obama's Keynote Speech
Obama gave his keynote speech in 2004 at the Democratic National Convention spoke about his upbringing and beating the odds and his message gives hope and inspiration.  One of the best inspirational speeches of all time.
22.  Winston Churchill's "We Shall Fight On the Beaches"
The great PM of England gave this speech during WW2 and is one of the greatest and best inspirational speeches in history.
Funny and Interesting – At one time Mr Churchill was in parliament speaking and his words were mumbled and incoherent.  An unattractive lady MP on the opposite benches said to Churchill: 'Sir, you are drunk!'.  At that, Mr Churchill replied,  'Madame that may be true, but in the morning I shall be sober whereas you will still be ugly'.
23.  Aragorn's Speech at Mordor
24. Ashton Kutcher Inspiring Speech About Success
Ashton Kuthcer is an American actor and give 10 Rules for Success.  They are:
Ask extraordinary questions
Be Yourself
Work Hard
Take Risks
Build and Advice Library
Be sexy
Understand customers
Be generous
Build Your Life
Uncover what's concealed
25.  Dwayne "The Rock" Johnson Inspirational Speech
Johnson says "You Can Achieve Anything" and shares his story of how he was broke and literally had $7 dollars to his name.  Dwayne tells his success story and the one thing that really touched me was when he said "Whatever it is that you wanna do, you've gotta get after it!".  You have to work hard to make your dreams come true, they don't just happen.
26.  Dream Motivational Speech
One of my favorites Mateusz M delivers top notch motivational videos and inspirational speeches.  This speech will lift you up and get you moving, it will make you think about your life and want to make changes for the better.  So inspiring!  You can check out his inspiring website here.
27. Priyanka Chopra – Full Power of Women Speech
Priyanka Chopra is such an inspiration to women and her speech is very powerful.  She was crowned Miss World and is also Ambassador for Unicef
We all need to be inspired from time to time especially in our daily lives of working, taking care of our families and loved ones.  Please take a moment to share this page and inspire and motivate someone else.  You never know which best inspirational speeches from some great and amazing people can change a persons life for the better.